Posted by Emily Wiley on 07/09, 2010 at 04:59 PM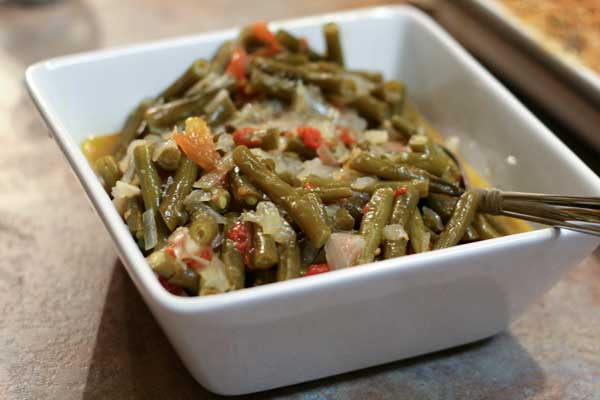 Green beans are sold canned and frozen year round. But you can find cartons of fresh whole beans at your local market now through September.
While baked green bean casserole is a familiar dish on the Thanksgiving Day dinner table, beans can also be steamed, boiled, and stir fried.
This recipe slow cooks them with onions, tomatoes, and lemon juice to yield a soft and subtle side dish.
How do you like your green beans?
Ingredients
1 1/2 lbs green beans, trimmed
1/2 cup extra-virgin olive oil
1 cup onion, chopped
1 cup tomato, chopped
1/2 cup water
Salt and freshly ground pepper
Freshly squeezed lemon juice
Directions
Combine all ingredients in a large saucepan and bring to a boil. Cover and cook over medium-low heat for about 1 hour. Check every 15 minutes and add more water, if necessary. The beans are ready when all of the liquid has been absorbed. Add more salt and pepper and lemon juice to taste.
(Adapted from Mark Bittman)
Purchase How to Cook Everything by Mark Bittman. Support WPSU
WPSU is now a member of Amazon's Associate program. When you make purchases from Amazon by following links from our website, WPSU will receive a portion of the sale with NO extra cost to you.

Buy How to Cook Everything by Mark Bittman.
-or- Click here to support WPSU through any purchase from Amazon.com
Author: Emily Wiley
Bio: WPSU Multimedia Producer | Wife and Mother | Lover of Food and Photography | One-Half of The Culinary Couple