Posted by Emily Wiley on 05/18, 2012 at 11:53 AM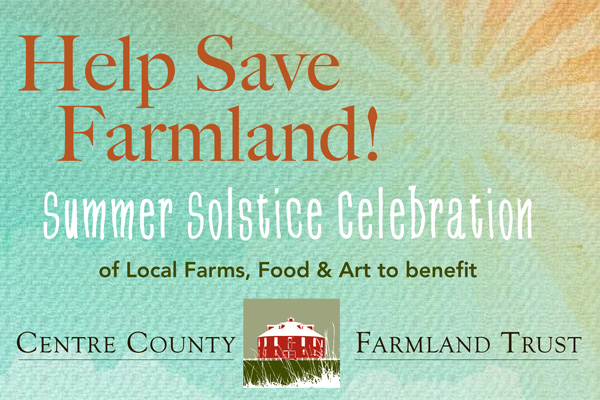 Mark your calendar for the 2012 Summer Solstice Celebration on Saturday, June 16th from 1-4pm at Tait Farm in Centre Hall. Locavores, landscape art enthusiasts, and interested community members are invited to attend the second annual event to benefit the Centre County Farmland Trust (CCFT).
In America, we've been losing more than an acre of farmland per minute. Between 2002 and 2007, 4,080,300 acres of agricultural land were converted to developed uses—an area nearly the size of Massachusetts. From 1982 to 2007, the U.S. population grew by 30 percent, while developed land increased 57 percent. (Learn more at the American Farmland Trust website.)
Local food and beverage sampling will be provided by Elk Creek Cafe + Aleworks, Harrison's Wine Grill & Catering, Otto's Pub and Brewery, Mt. Nittany Winery, Tait Farm Foods, as well as, new participants Gamble Mill Restaurant and Microbrew, and Zola New World Bistro. An art exhibition and sale by the Farmland Preservation Artists featuring agricultural landscapes and farm related themes will take place with a percentage of each sale benefitting CCFT. (Listen to an audio story about the Farmland Preservation Artists.) Hayrides and live music will also add to the festivities. The event is free with a suggested $5 donation for parking to benefit the Trust.
The restaurant, winery, and microbrewery sampling is planned to demonstrate the need for local farms in our region. American agricultural land provides the nation—and the world—with an unparalleled abundance of food. Farmland also means much more than providing food. Well-managed farmland shelters wildlife, supplies scenic open space and helps filter impurities from our air and water. These working lands keep our taxes down and maintain the legacy of our agricultural heritage. According to the Trust, we all have a responsibility to protect this most valuable resource for future generations.
This year's Solstice Celebration will be a zero waste event through the generosity of Ecoproducts in Denver, Colorado. Ecoproducts produces compostable food service materials including the plates, cups and napkins that will be used. The State College Borough's Sustainability Committee has agreed to provide collection containers and to compost all waste following the event. Roaring Spring Water has also donated drinking water to supply water stations this year. Through the enthusiastic participation and altruism of so many, it is clear that our community cares about the future of agriculture in Centre County.
Watch a video recap of last year's event. Hope to see you in June!
Author: Emily Wiley
Bio: WPSU Multimedia Producer | Wife and Mother | Lover of Food and Photography | One-Half of The Culinary Couple