Posted by Michele Frank on 08/25, 2010 at 03:33 PM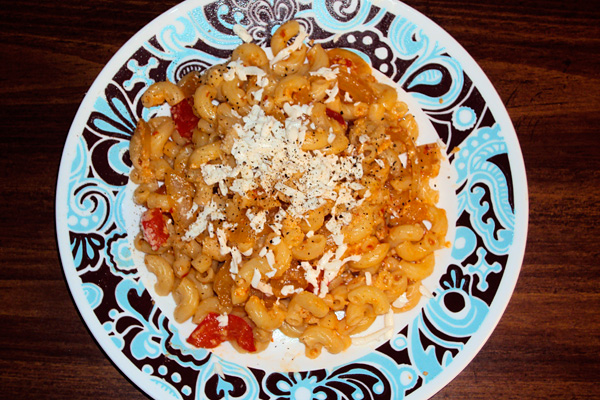 Here is a quick and easy pasta salad, perfect for the summer to fall transition time. It can be served either hot or cold and pairs well with heavy wheat beer.
Ingredients
2 large tomatoes
2 Tbsp olive oil
2 Tbsp minced garlic
1 tsp salt and 1 tsp pepper
1 large candy onion, sliced
1 large red pepper, diced
1/2 cup Parmesan cheese
1/4 cup shredded mozzarella cheese
5 oz. elbow macaroni, cooked according to package directions and drained
Additional salt and pepper to taste
Directions
In a food processor, puree the tomatoes and garlic with 1 Tbsp olive oil. Add 1 tsp salt and 1 tsp pepper. Let sit while sautéing the onion and red pepper.
Sauté the candy onion and red pepper in 1 Tbsp olive oil. Cook over medium heat for about 5 minutes.
Add the tomato puree mixture to the onions and peppers. Bring to a boil for 2 minutes.
In a mixing bowl, combine the cooked noodles, tomato mixture, and 1/2 cup Parmesan cheese.
Sprinkle mozzarella cheese on top of each individual portion and season to taste with salt and pepper. Enjoy.
Author: Michele Frank
Bio: Michele is a senior at Penn State majoring in print journalism. She loves to cook for her friends and family, and wishes to make a career out of her hobby. She spent last summer working for Gulfshore Life Magazine in Naples, Fla.