Posted by Jessica Reilley on 10/07, 2010 at 02:05 PM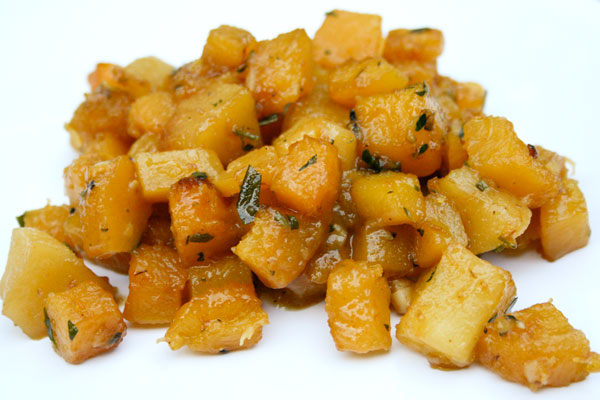 'Tis the season for squash! Try this savory dish with delicata squash (also known as sweet potato squash), apples, and thyme.
Serves: 4
Ingredients
2 Tbsp unsalted butter
2 cloves garlic, minced
3 medium delicata squash, peeled, seeds removed, and cut into 1/2" cubes
1 apple, peeled, cored, and cut into 1/2" cubes
1 tsp fresh thyme, minced
1 Tbsp brown sugar
1/2 tsp ground nutmeg
1/2 cup chicken broth
Directions
Melt butter in a large skillet over medium-high heat. Add garlic and sauté for 1 minute. Add squash and sauté for about 5-7 minutes, stirring occasionally, until lightly browned on all sides. Add apple, thyme, brown sugar, and nutmeg and stir well. Sauté for about 3-5 minutes, or until apples start to soften.
Deglaze pan with chicken broth and cover. Simmer for 2-3 minutes, or until squash is easily pierced with a fork. Remove lid and continue to simmer until most of the liquid is absorbed, about 2 additional minutes.
Author: Jessica Reilley
Bio: Jessica Reilley is a Penn State grad with a passion for food, cooking, and photography. For three years, she owned a personal chef business before taking a break to spend more time with her family and young son. Jessica lives in Gilbertsville, Pa.