Posted by Emily Wiley on 10/13, 2010 at 02:53 PM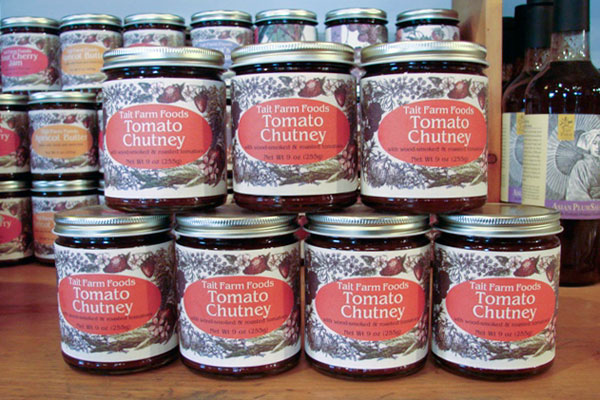 Now that the local salmon fishermen (and women) have returned to central Pennsylvania from their summer fishing expeditions in Alaska, there is wild-caught, fresh-frozen salmon available at area farmers markets and natural food stores. Tait Farms offers this recipe for a simple and tasty dinner. The sauce is also excellent on meatballs, meatloaf, pork chops, and baked chicken.
Ingredients
1 jar of Tait Farm Tomato Chutney Juice
Grated rind of one small orange (organic if possible)
2 tablespoons soy sauce (tamari is recommended)
2 tablespoons olive oil
Side of wild-caught salmon (or 4-6 portions)
Directions
Place the salmon in an oiled glass-baking dish, skin side down, about 1 1/2 inches apart. Score the fish by slicing partway through the flesh on the diagonal. Reverse the angle and slice again to create a diamond pattern on the fish.
Combine all other ingredients and pour over the fish. Bake in a 350 degree oven for 20 minutes, or until the fish is almost cooked through. Beware that this fish can quickly dry out. The salmon can also be grilled in a pan outside for the same amount of time.
Slide the salmon onto a platter over a bed of rice, or place portions on the rice and pour the sauce over the top.
Author: Emily Wiley
Bio: WPSU Multimedia Producer | Wife and Mother | Lover of Food and Photography | One-Half of The Culinary Couple