Posted by Emily Wiley on 01/30, 2012 at 07:51 PM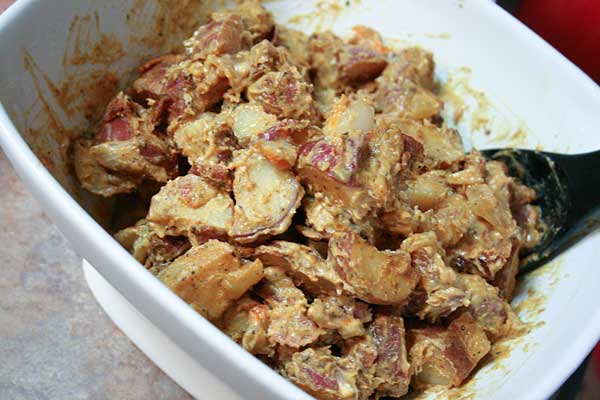 Tomorrow is the last day to enter our potatoes recipe contest! How do you prepare Russet potatoes, sweet potatoes, fingerling potatoes, and new potatoes? Share your recipe for a chance to win a $25 gift certificate to Nature's Pantry.
Looking for inspiration? Continue reading for my favorite potato salad recipe.
I tend to gravitate towards warm potato salads rather than cold ones. And I like the addition of mustard and fresh herbs. If this sounds good to you, too, you must try this recipe. It's a bit labor intensive, but the taste is absolutely worth the time.
Ingredients for Potato Salad
8 bacon slices
4 medium red potatoes, cut into 3/4-inch cubes
1 large white onion, cut into 1/2-inch-thick strips
1 Tbsp olive oil
Potato Salad Dry Rub (listed below)
Potato Salad Dressing (listed below)
Chopped fresh parsley for garnish
Ingredients for Potato Salad Dry Rub
2 tsp salt
1 1/4 tsp pepper
1 tsp paprika
1 tsp garlic powder
1/4 tsp dried thyme
1/4 tsp dried crushed rosemary
1/8 tsp celery seeds
Ingredients for Potato Salad Dressing
5 1/2 Tbsp mayonnaise
2 Tbsp Dijon mustard
2 tsp Worcestershire sauce
Directions
Preheat oven to 375°F.
Cook bacon, in batches, in a large skillet over medium-high heat for 8-10 minutes or until crisp. Remove bacon, and drain on paper towels, reserving drippings in skillet. Crumble bacon and set aside.
Add potatoes, onion, and Potato Salad Dry Rub to hot drippings in skillet, toss to coat. Remove potato mixture and place in a large casserole dish with 1 tablespoon olive oil. Bake in preheated oven for 30 minutes or until tender.
Transfer mixture to a large bowl. Add Potato Salad Dressing, and toss to coat. Stir in bacon. Garnish with chopped fresh parsley. Serve warm.
Author: Emily Wiley
Bio: WPSU Multimedia Producer | Wife and Mother | Lover of Food and Photography | One-Half of The Culinary Couple