Posted by Jessica Reilley on 09/23, 2010 at 04:12 PM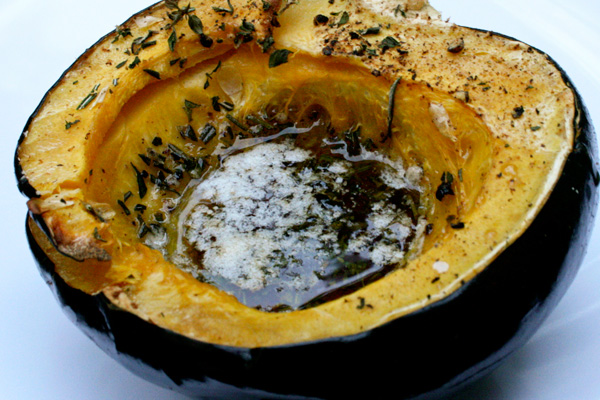 Fall is here! Which means it's time for squash. Acorn squash, in particular, has great flavor and only requires a small amount of prep time to create a delicious side dish.
Ingredients
2 acorn squash, halved and seeded
2 Tbsp butter
2 Tbsp brown sugar or maple syrup
2 tsp rosemary, minced
2 tsp thyme, minced
1 tsp ground nutmeg
salt and pepper, to taste
Directions
Preheat oven to 400 degrees F. Place acorn squash face up on a baking sheet. Evenly divide butter, brown sugar or maple syrup, rosemary, thyme, nutmeg, salt, and pepper and place in each half of squash. Roast in oven for 45 minutes to one hour. Squash is done when a fork is easily inserted into the flesh.
Author: Jessica Reilley
Bio: Jessica Reilley is a Penn State grad with a passion for food, cooking, and photography. For three years, she owned a personal chef business before taking a break to spend more time with her family and young son. Jessica lives in Gilbertsville, Pa.