Posted by Kristin Camplese on 05/30, 2012 at 10:59 AM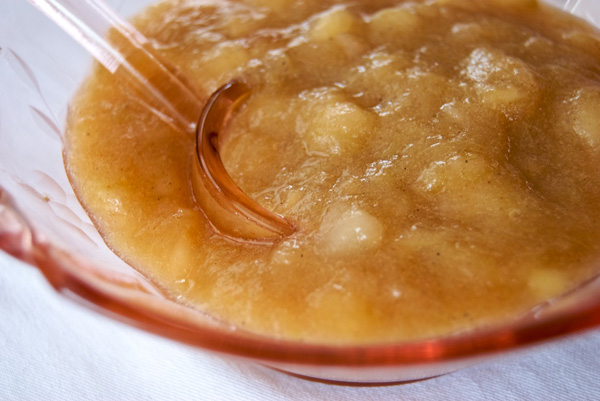 I wanted to do something slightly more savory with my recent bunch of rhubarb, which is tough because it is very tart and needs some sugar. I settled on the idea of something "applesaucey" and it was a hit with our grilled pork. It would be great with some strawberries added in (if you like the strawberry-rhubarb combo and are willing to part with your strawberries—but I'm not there yet.)
I added fresh ginger because it marries with the rhubarb so nicely. Then I sweetened this with a bit of honey, and it worked well. I think it would also be wonderful with some freshly chopped chives or rosemary.
Don't forget to share your favorite rhubarb recipe this week for a chance to win a pound of rhubarb from Jade Family Farm. See details about the contest.
Ingredients
4-5 cups of rhubarb, cut into 1 inch pieces
3-4 cups of apples, peeled, cored, and roughly chopped
1/2 cup of honey
1/2 cup of water
1 T freshly chopped ginger
Pinch of salt
Pinch of cinnamon
Pinch of cardamom
Freshly chopped herbs (if desired)
Directions
Combine all ingredients (except herbs) in a medium saucepan and bring to a boil over medium heat. Simmer for 20-30 minutes until completely softened and the rhubarb is falling apart. If your apples are still too chunky, you can use a potato masher to break them up. Serve as a side dish or with grilled meat. Serves 4.
Author: Kristin Camplese
Bio: Author of Cuizoo.com | Writer | Photographer | Wife and Mother of 2