Posted by Jamie Oberdick on 08/03, 2016 at 02:34 PM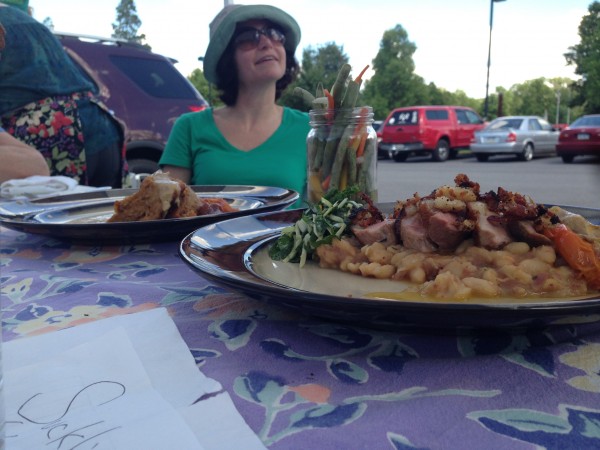 Over the past year or so, I've noticed a steady building of buzz about a restaurant down in the Amish country of Reedsville. Revival Kitchen, a farm-to-table spot over the ridge down 322 from State College, has steadily built a reputation as a go-to location for excellent, creative food made from local ingredients.
And all that growing chit-chat about a small restaurant that is a must-try was backed up at yesterday's Golden Basket Awards, as first-timer Quintin Wicks of Revival Kitchen took the top prize at the event held at the Boalsburg Farmers Market. As a four-time judge of this six-year-old showcase of both local food and local chefs, I can attest that his win was during one of the toughest years for judging this contest, as all of the dishes were first-rate.
The day of tasting started off with Andrew Hufnagel, chef and co-owner of Zola Kitchen and Wine Bar, who served up a summery dish of beet-cured salmon. The salmon was sliced thin and presented quite a colorful plate, with a beet-red outline highlighting the orange of the salmon. The dish was served cold with pickled baby beets, pickled mustard seeds, capers, Byler Farm goat cheese, and garnished with colorful sorrel microgreens. Crunch was provided via thin-sliced and baked Gemelli Bakers sourdough bread. This dish won Best Appetizer/Side and frankly, Zola needs to add this to the menu.
Next up was Mark Johnson, chef at Big Spring Spirits and owner/operator of M.J. Custom Craft Cooking. After the subtlety of beet-cured salmon, Chef Mark brought it, and brought it hard as my fellow judges and I were soon sitting face-to-face with a whole roasted suckling pig, via Cow-a-Hen Farm.
While the pig was certainly a brash move, it was accompanied by some sophistication. The tender pork was served with a tomatillo and corn salsa and a variety of pickled vegetables such as okra, fennel, and beets. A side of bruschetta was topped with Patchwork farm cherry tomatoes, Ardry Farm sweet corn, and purslane. Yes, the purslane you try to rid your yard of; this "weed" is delicious and very nutritious. Johnson's effort took the Best Use of Local Ingredients award.
Zach Lorber of Penn State Altoona's Port Sky Cafe was next. As a veteran of this competition, I've always enjoyed Zach's entries and this year was no exception. His entry featured one of my personal favorites, cassoulet. His version featured rare slices of Cow-a-Hen duck breast over white beans flavored with ham and bacon. A side salad of Tamarack Farm red Russian kale tossed with tarragon and a jar of pickled vegetables kept things summery.
As a full devotee of one of the best-kept secrets in Centre County, Way Fruit Farm's apple cider donuts, I was thrilled to find out Lorber took these donuts and created a bread pudding of sorts, with Way's peaches and apple butter added as well. I have to say, this is a year-round dish that would be quite nice as a holiday dinner dessert. Lorber's cassoulet, personal love of those donuts aside, was what landed him a prize, the Best Entree award.
Wicks was up next; more on that later. The final tasting was via Andre Monk, the executive chef of the always-excellent Nittany Lion Inn. He took us on a trip across the equator to South America, whose cuisine I think is highly underrated. Inspired by an upcoming trip to our neighbors to the south, Wicks offered up Cow-a-Hen pork cheeks, grilled and served over arepas, a corn pancake that was stuffed with delicious cheese from Clover Creek, and garnished with sticks of Way's apples. To spice things up, the side was a Eden View Farm chile pepper stuffed with Ardry Farm sweet corn.
While this was fantastic, Monk won for Best Summer Flavor for his simple dessert, a thin slice of golden watermelon from Jade Family Farm, topped with an Eden Farm blackberry and a schmear of Clover Creek blue cheese. It was a refreshing and unique meld of flavors that would be a star at any summer potluck.
Last but certainly not least, winner Wicks wowed the judges and Boalsburg Farmers Market patrons with an Over the Moon Farm chicken that he cooked with a brick on top, which made the skin deliciously crispy. It was marinated with herbs from his father's garden, and garlic from Hostetler's Naturals. A side salad featured sourdough from Sweet Sunrise Bakery, tomatoes from a variety of local farms, and Alpha-Omega cheese from Clover Creek Cheese Cellar.
Wicks' other side dishes were quite creative. He coffee-roasted three kinds of beets and topped them with beet chips from Village Acres and his own cultured cream and hazlenuts. Curiously enough, the garnish was coffee pizelles, broken up throughout the dish. He also served up carrots from Jade Farm, flavored with dill, parsley, hemp seed, and puffed spelt (a type of grain) from Hostetler's Naturals. All-in-all, a winning combination.
Hungry yet? Feel inspired? Most of the ingredients were local and from the Boalsburg Farmers Market. With that in mind, perhaps you can hold your own Golden Basket Awards, as the selection offered by our area farmers markets make the sky the limit for anything you might want to create in your own kitchen.
Author: Jamie Oberdick
Bio: Editor, Local Food Journey | Passionate about supporting local food in Central PA