Posted by Jamie Oberdick on 09/05, 2013 at 11:19 AM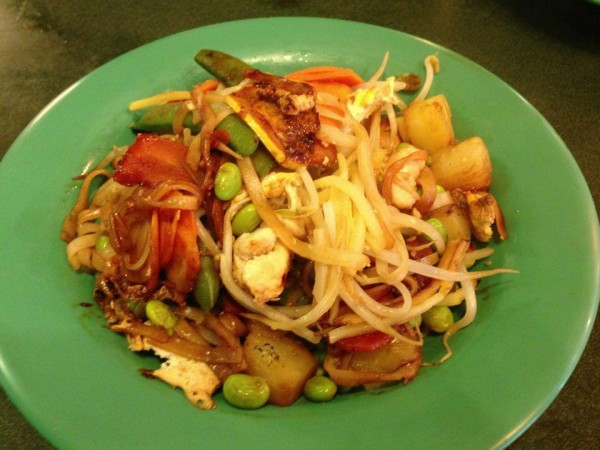 The Green Bowl is one of those interesting restaurants that let you build your own meal. The concept is simple. You choose your vegetables, fruits, noodles, etc.; then specify what sort of meat you want, if any; pick your sauce; then a staff member stir fries it for you. It's sort of like being your own prep chef.
Some places refer to this sort of thing as Mongolian barbeque, although there are some difference such as a wider variety of sauce selections at the Green Bowl as opposed to other places like it. Along with the great flavor, one aspect of the Green Bowl that makes it stand out from similar establishments is inclusion of local food ingredients, thanks to owners Scott and Marley Wong.
The Green Bowl actually started 13 1/2 years ago, Marley said, with different owners. About 7 1/2 years ago, Marley and Scott bought the Green Bowl and took over operations. It was during this time that they began to introduce local food on a limited basis. "At first we offered local produce items as a weekend feature," Marley said. "The first local vendor we dealt with, Greenmore Gardens, used to sell us whatever they had leftover after doing their crop shares."
From there, The Green Bowl expanded the local food offerings into their regular, everyday menu. "For example, if you get pork, it comes from Hogs Galore," Marley said.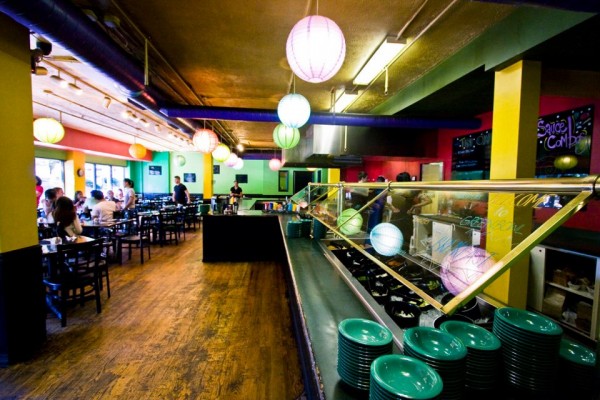 Interior of the Green Bowl features a stylish yet welcoming atmosphere with friendly staff.
Not everything they serve is local for a few reasons. One, they offer on their food bar items like mango and pineapple, and, obviously, a pineapple farm in Central PA wouldn't work out too well. The other reason is the nature of their restaurant, which is all-you-can-eat. Adding to this challenge is the fact we are in a college town—anyone familiar with the appetite of a college student knows they can potentially put away several bowls, at least. "We really can't go full local because we can't do any portion control, you never know how much a customer will eat," Marley said.
Given local food is enjoying a wave of popularity, the Green Bowl markets their local food offerings as much as possible. For example, on their street sign just outside their door on Beaver Ave., they often list what local food ingredients they are offering on their stir fry bar.
Personally, both Marley and Scott believe in a local food philosophy. "Local food is better for you, it's tastier, it's better for the environment, and it's good for the community," Marley said. "So, local food is something I find easy to support"
Author: Jamie Oberdick
Bio: Editor, Local Food Journey | Passionate about supporting local food in Central PA