Posted by Local Food Journey on 08/27, 2014 at 12:12 PM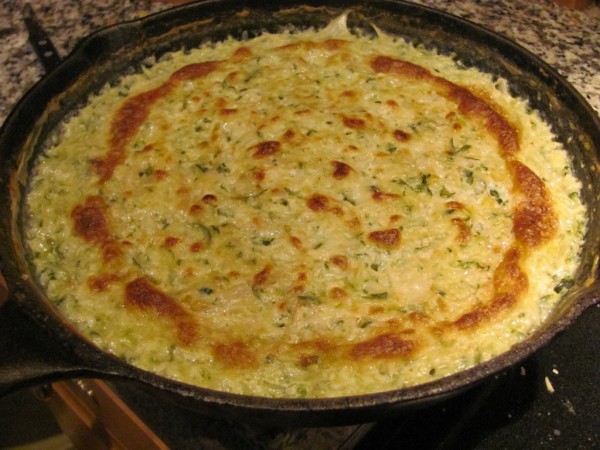 By LaCreta Holland
What is a "tian?"
A tian is "a dish of finely chopped vegetables cooked in olive oil and baked au gratin." My tian is an adaptation of a Julia Child recipe–it makes a great side dish or you can use it, as I did, as the main course for a meatless meal.
After all, with so many lovely fresh vegetables available right now, why would you need meat?
Ingredients
2 and 1/2 pounds zucchini, grated
1/2 cup long grain white rice
1 cup onions, chopped
2 large cloves garlic, minced
2 Tablespoons flour
2 and 1/2 cups milk
2/3 cup Parmesan cheese, grated
Salt and Pepper
2 Tablespoons olive oil for topping
Parmesan Cheese for topping
Steps
- Into a large frying pan or cast iron skillet, cook the onions in olive oil on a low temp until tender, about 8 minutes, stir occasionally. Turn up the heat to let the onions brown just on the edges, stirring continuously.
- Add the zucchini and garlic to the pan with the onions. Stir and let cook for 5 – 6 minutes. Sprinkle the flour on top of the zucchini mixture, stir well; let it cook for another 2 minutes. Remove the pan from the heat.
- Heat the milk in the microwave for a minute on medium power just to warm the milk before putting it into the zucchini mixture, then add to the zucchini. Stir and make sure the flour is blended in and the mixture is smooth.
- Return the pan to a medium heat and stir, letting the mixture heat to a simmer. Remove the pan from the heat again, stir in the rice and Parmesan cheese; add salt and pepper to taste. There is a lot of stirring in this recipe!!
- At this point, if you are not using a cast iron skillet, pour the mixture into a buttered baking dish. For both the skillet or the baking dish, top the tian with more grated Parmesan cheese and a swirl of olive oil.
- Put the tian into a preheated 425 degree oven and bake until the tian is bubbling and nicely browned on the top. The rice should absorb the liquid, so the tian should not be "soupy."
LaCreta Holland teaches people in Happy Valley how to cook via her business Happy Valley Learn to Cook. Find out how to take a class and discover more great recipes at her blog.
Author: Local Food Journey
Bio: An exploration of what it means to eat local