Posted by James Sechrengost on 12/02, 2013 at 01:29 PM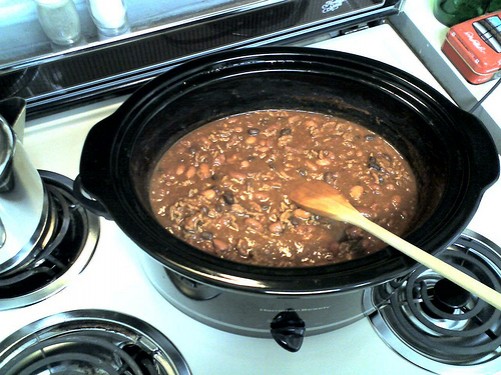 When I was still a young man my father handed me his rifle and one bullet. He said "bring a deer home or don't come home." Now to some that might seem cruel. To me it was a challenge. By the time my father said that, I was good with a rifle, actually very good. He was actually kidding. Well, sort of kidding, we really needed the meat.
So I traipsed out into the snow to get some meat. I came home a few hours later dragging a buck behind me. I always enjoyed hunting. The time in the woods by myself, the skill in tracking the game, testing myself, pushing the limits. After I got older and served and did some other things I lost my taste for hunting but not for venison. So when I can get my hands on some I love to make it in new and interesting ways. Here I have included my recipe for venison chili, crockpot style.
Venison chili
Ingredients
1 lb bacon, chopped
2 lbs ground/cubed venison
2 15 oz cans kidney beans, drained
2 15 oz cans black beans, drained
2 15 oz cans diced tomatoes
2 medium onions, chopped
1 medium green pepper, chopped
4 garlic cloves, crushed, minced
1 tablespoon ground cumin
2 tablespoons chili powder
1 tablespoon hot pepper sauce
1 teaspoon salt
Steps
Cook bacon until done and remove to paper towel to drain.
Drain bacon fat, all but 2-3 tablespoons
Sauté onions, green pepper, and garlic in a pan over medium heat in bacon fat.
Add venison and brown.
Add spices to mixture, combine thoroughly and transfer to crockpot.
Place remaining ingredients in crockpot.
Mix all ingredients together.
Cook on low 8-10 hours, or high 4-6 hours.
Author: James Sechrengost
Bio: Computer Guru | World Traveler and Foodie Extraordinaire | Member of the Been there Done that Club