Posted by James Sechrengost on 09/30, 2014 at 12:22 PM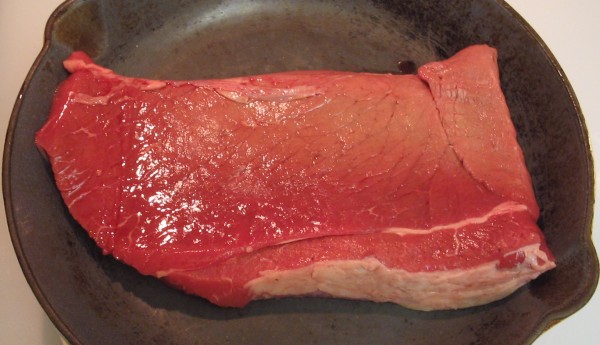 Way back when, Swiss steak was a great way for people to use inexpensive cuts of beef to make a great meal. This seemed to be mainly a Pennsylvania thing back in the day as when I got to California I never saw it on any menus. I got a hankering for it one day and made up a batch which I took to work with me for lunch the next day. When I was heating it up in the microwave, yes we had them even back then, my colleagues came wandering in to find out where that heavenly aroma was coming from.
When I showed them what it was, they were amazed that something so simple could smell so good. So I spent the day giving the recipe to my co-workers so they could try it on their own. Needless to say they changed and added things, which is exactly what the dish was meant to do. They added green chilies instead of green peppers, changed the seasoning and so forth. Here is the basic recipe so don't be afraid to try it and make changes to suit your families tastes.
Ingredients
- 1 1/2-2 lbs. round steak cut into 1 inch cubes or you can use stew meat. I have even used cubed steak for this recipe and that works fine too.
- 1/3-1/2 cup beef broth
- 1 medium onion chopped
- 2 cans diced tomatoes
- 1/2 green pepper chopped about ½ cup
- 1/4 - 1/3 cup flour
- 1 tsp salt
- 1 tsp black pepper
- 1/2 tsp season salt
- 2 Tbsp. olive oil
Steps
- Mix flour, 1/2 tsp salt and 1/2 tsp pepper in a plastic bag.
- Add beef to flour mixture and shake to cover all the meat in flour. You'll need to do this in batches to ensure proper coverage.
- I prefer to use a cast iron Dutch oven type pot but any heavy pot with a lid that will hold all the ingredients will work.
- Heat the oil in pot to medium high heat. You going to want to brown and put a nice crust on the meat. Again batches works great as you don't want to crowd your meat. Make sure to brown on all sides.
- Put the meat on a platter as it is finished.
- Now reduce the heat and pour in the beef broth. You want to make sure you get all those tasty brown bits up off the bottom. Brown bits = Flavor.
- Add the meat back into the meat back into pot, cover and reduce to simmer. We want to simmer the meat until it is fork tender about an hour. Add more broth if needed.
- Mix all the other ingredients together in a bowl until all combined.
- Pour the mixture over the meat.
- Allow to simmer for another 30 minutes or so without the lid until mixture thickens. After you brown the meat this can all be added to a crockpot to be ready when you get home for dinner.
I love to have my Swiss Steak with mashed potatoes.
Author: James Sechrengost
Bio: Computer Guru | World Traveler and Foodie Extraordinaire | Member of the Been there Done that Club