Posted by Jamie Oberdick on 04/29, 2013 at 03:41 PM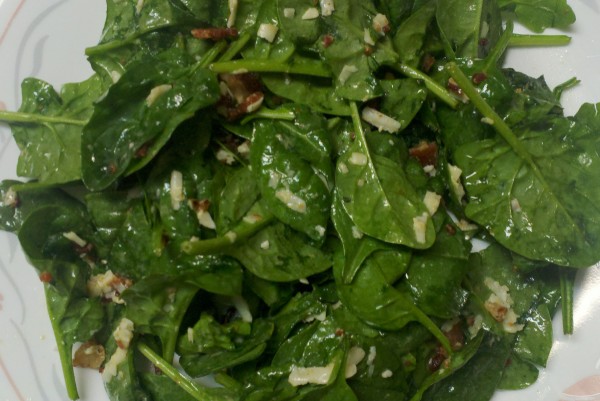 I didn't care how many times Popeye beat Bluto after downing a can of spinach, as a kid I just plain HATED spinach. But as my culinary horizons broadened as I grew up, I quickly learned that spinach didn't have to be a lifeless splatter of lumpy green on a plate. In fact, spinach has become my favorite salad green, and since it is a spring crop, we are in spinach season here in Central Pennsylvania.
A spinach salad is a beautiful thing, with the bright green leaves holding up quite well both visually and taste-wise. Young spinach leaves have a nice mild but complex flavor and can handle being combined with more bold flavors.
If you want your kids to eat more spinach, that might be still a tough one even with a nice, plain spinach salad. You have to trick them with other flavors. A favorite of mine combines two tastes that any kid loves—cheese and bacon. Tossed with a dijon mustard dressing, this spinach salad combines fresh spinach from a CSA share with local bacon and local smoked cheese. The smokiness of the cheese and bacon, plus the dijon mustard, goes well with spinach and creates a salad sure to please palates of any age or pickiness level.
Ingredients
1/2 pound of baby spinach leaves (roughly 5-6 packed cups of leaves) from a CSA such as Greenmore Gardens or Star Hollow Farm
3 slices of bacon, such as Hog's Galore, cooked and crumbled
roughly 1/2 cup of shredded smoked cheddar cheese, such as Goot Essa.
Dressing:
1 tablespoon fresh lemon juice
1 teaspoon Dijon mustard
3 tablespoons of good quality extra-virgin olive oil
Directions
In a small bowl, put in the lemon juice and mustard, then start whisking. As you whisk, add the oil slowly, whisking until emulsified well. In a large bowl, add the spinach, bacon, cheese and dressing, tossing until all ingredients combine nicely. Can be served as a full meal with some crusty bread from Gemelli's or as a side with grilled meat or mushrooms.
Author: Jamie Oberdick
Bio: Editor, Local Food Journey | Passionate about supporting local food in Central PA