Posted by Local Food Journey on 09/18, 2014 at 03:09 PM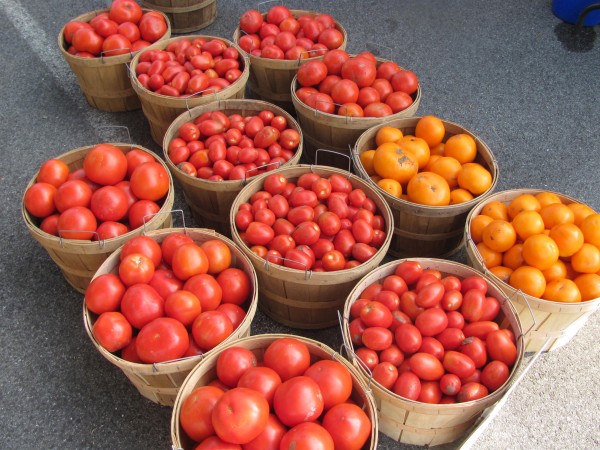 Summer is still producing my favorite veggies, but with a nip in the air, not for much longer! I shopped at the Tuesday Farmers Market in Boalsburg this week and found very good prices on the last tomatoes of the summer. I don't look forward to winter, so a basket of tomatoes right now really makes me smile. There are lots of ways I want to use them, now and in the future.
I like to use them fresh in pasta dishes. This angel hair pasta is mixed with grilled shrimp. Garlic and tomatoes sauteed in a couple of tablespoons of olive oil are added and a handful of julienne basil are mixed in. A very fresh tasting pasta for the end of the summer.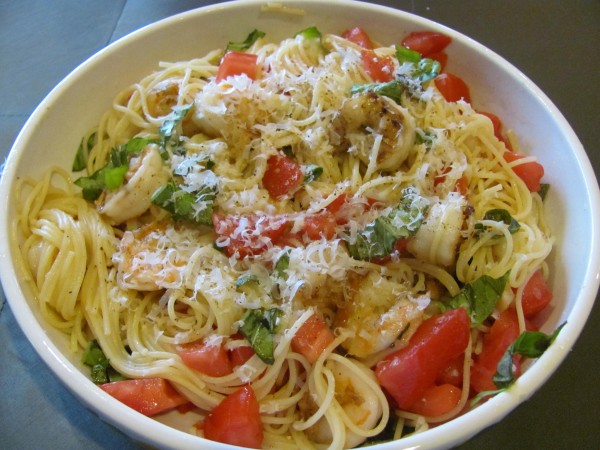 Angel hair pasta with grilled shrimp
I will roast many Roma tomatoes using the following recipe from Rachael Ray. As she says, you can use these in a salad, make a wonderful tomato sauce or as a pizza topping.
My suggestion, eat them right out of the oven—they are delicious on their own!!
Roasted Tomatoes
by Rachael Ray

Ingredients
3 pounds ripe plums tomatoes (about 15)
¼ cup extra-virgin olive oil
1 Tablespoon chopped fresh thyme
3 garlic cloves, finely chopped
Steps
- Position a rack in the middle of the oven and preheat the oven to 375 degrees. Stem the tomatoes and slice them in half lengthwise. Gently squeeze out the seed or scoop them out with a spoon.
- Lay the tomatoes, cut side up, in a single layer on a baking sheet lined with parchment paper. Drizzle with olive oil and sprinkle with the thyme and garlic. Roast for about 40 minutes. Increase the oven temperature to 400 degrees and roast the tomatoes until caramelized, about 20 minutes more.
- Turn off the oven and leave the tomatoes inside for 10 minutes, then remove to a rack and let cool completely. Peel if desired. The tomatoes will keep for up to five days in the refrigerator or for up to six months in the freezer.
LaCreta Holland teaches people in Central Pennsylvania how to cook via her business, Happy Valley Learn to Cook. Find out how to take a class and discover more great recipes at her blog.
Author: Local Food Journey
Bio: An exploration of what it means to eat local