Posted by Jamie Oberdick on 11/15, 2017 at 02:48 PM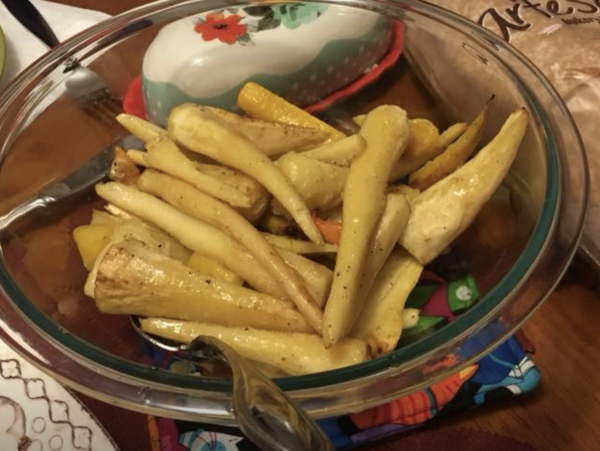 Parsnips are a highly underrated vegetable. When roasted, they are sweet, a little earthy, and even a bit spicy.
They are also an underrated example of why local food can be better than supermarket food. If you grow parsnips in your garden or buy them this time of year from a local farmer at say a Farmers Market or via Friends and Farmers Coop's online market, they have a distinct advantage over the supermarket ones. Why? It's simple…cold weather exposure.
Parsnips, like any other root vegetable, get sweeter after exposure to cold soil. This is because the cold converts the starches in the roots to sugar. This is not something you can get from a supermarket parsnip, which is harvested before exposure to cold.
Roasting parsnips adds to that sweet flavor, and it's quite easy to do. The following recipe includes thyme, an herb that does well with parsnips. This is an excellent holiday, or any meal, side dish.
Roast Parsnips with Thyme
Ingredients
- 2 pounds parsnips (5 to 6 medium)
- 3 tablespoons olive oil
-1/2 teaspoon salt
- 1/4-1/2 teaspoon freshly ground black pepper
- 3 tablespoons coarsely chopped fresh thyme
Steps
- Preheat the oven to 400°F.
- Peel the parsnips and cut them into 2-inch lengths. Important for even cooking: quarter the thickest pieces, halve the medium ones, and leave the thinner ones whole to make them as evenly sized as possible.
- Put the olive oil in a shallow baking dish large enough to hold the parsnips in a single layer.
- Add salt and pepper.
- Toss the parsnips in the oil to coat all the pieces evenly.
- Roast for 20-25 minutes. Remove the pan from the oven and stir in the thyme.
- Continue roasting until parsnips start to brown and can be easily pierced with a fork.
Author: Jamie Oberdick
Bio: Editor, Local Food Journey | Passionate about supporting local food in Central PA