Posted by Jamie Oberdick on 12/24, 2013 at 03:01 PM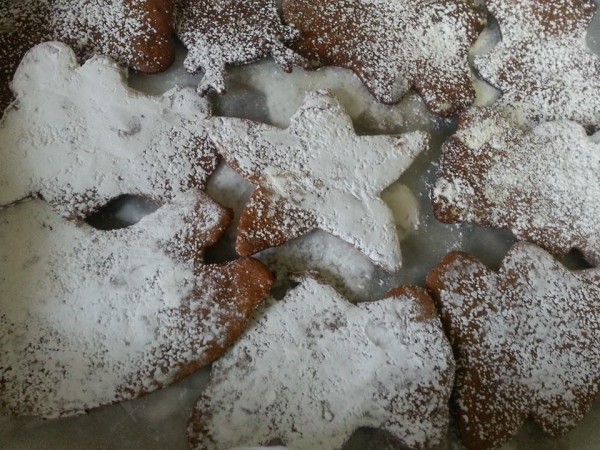 I grew up in York, part of the original Pennsylvania Dutch Country. Therefore, there are several things that say Christmas to me that most others have no idea about. One is Der Belsnickel, a sort of nasty fellow who's job it is to make sure children are good in the weeks before Christmas by, well, beating them with a stick. Think of him as Santa's muscle.
Another, more benevolent aspect of Pennsylvania Dutch Christmas is some of the traditional cookies that families bake for the season.
A cook book that my mother referred to often when cooking is Pennsylvania Dutch Cooking by Conestoga Press. The entire book is available online via the Project Gutenberg License. Below, I have selected some excellent examples of Pennsylvania Dutch Christmas cookies, and many of them can be baked in a pinch with ingredients you likely have around the house this time of year. The entire book can be found here and I hope you enjoy these recipes.
Before we get to the recipes, here's wishing Happy Holidays to all of our Local Food Journey readers. We appreciate your interest in supporting this blog and the central PA local food scene.
MORAVIAN CHRISTMAS COOKIES
½ cup shortening
1 cup brown sugar
1 cup molasses
1 egg
4 cups flour
1 teaspoon cinnamon
1 teaspoon cloves
½ teaspoon nutmeg
1 teaspoon soda
Blend shortening, sugar and molasses. Add beaten egg. Sift dry ingredients and combine. Mix well, roll out and cut in fancy shapes. Bake at 350 degrees for 10 minutes. When cool decorate with boiled icing.
SAND TARTS
2 cups sugar
1 cup butter
4 eggs
flour
Work butter and part of the sugar together, then the remainder of the sugar and the eggs should be mixed in. Use flour enough to make very stiff. Roll thin, cut out in small squares, wet top with two eggs beaten, sprinkle with sugar, cinnamon and chopped almonds. Bake in moderate oven, 10 minutes.
LEBKUCHEN
1½ cups flour
1 tblsp. cinnamon
½ tsp. nutmeg
½ tsp. cloves, ground
½ tsp. cream of tartar
2 eggs, beaten
1 cup dark brown sugar
⅛ lb. citron, chopped fine
⅛ lb. almonds, chopped
Sift the flour, cinnamon, nutmeg, cloves and cream of tartar. Mix the sugar and beaten eggs thoroughly. Combine with the flour mixture, add citron and the almonds. Roll out on floured board, ¼ inch thick. Place on a greased cookie sheet and bake in moderate oven (350-f) for 15 minutes. Cut into squares or diamonds while still warm. Ice thinly with plain white or lemon frosting. This is an old recipe for an oldtime Christmas favorite.
PFEFFERNUSSE
3 eggs
½ lb. powdered sugar
2 cups flour
½ tsp. cinnamon
¼ tsp. cloves
¼ tsp. nutmeg
½ tsp. soda
¼ tsp. salt
1 lemon, juice and rind
Beat eggs well, gradually add powdered sugar, lemon juice and grated rind. Sift flour and add salt, soda and spices. Sift again and add to egg and sugar mixture. Beat to form smooth, medium-soft dough. Chill in refrigerator for several hours. Roll out on floured board, into long finger-shaped sticks. Cut into small marble sized pieces and bake on greased baking sheets in hot oven (425-f) until they turn a light, golden brown.
Author: Jamie Oberdick
Bio: Editor, Local Food Journey | Passionate about supporting local food in Central PA