Posted by Jamie Oberdick on 10/20, 2015 at 11:59 AM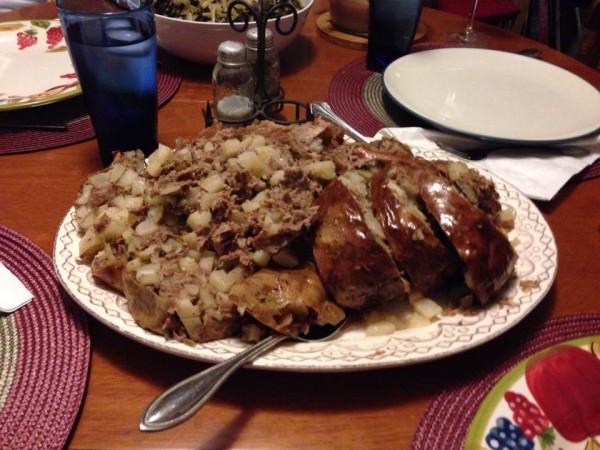 Last year, on an episode of the Cooking Channel's "My Grandmother's Ravioli", host, humorist, and NPR fixture Mo Rocca went to eastern Pennsylvania to discover Pennsylvania Dutch cuisine. They visited local households and got real recipes, like fastnachts, stewed dried corn, and a peculiar-to-outsiders dish known as stuffed pig stomach, or hog maw.
First things first…I know the idea of stuffed pig's stomach instantly makes some of you recoil, but trust me, it's delicious. If you're having a tough time with the idea of a stuffed stomach, here's a way to look at it; think of it as a giant sausage made with a casing that's farther away from the, um, end of the pig than regular sausage casings. One thing that's quite funny…people who enjoy this think of it as simple, down-home fare, and are often shocked to discover people finding it exotic/weird/gross. I grew up with it, so to me, it's a common thing.
The name of this dish varies depending on region. In my home area, York County, it's known as hog maw. In Lancaster County, it's known as stuffed pig stomach. It also has a few nicknames, such as "Susquehanna turkey" or "Dutch goose", which is due to this being served during holidays. In my family, it was the centerpiece of our harvest dinner, a local southcentral PA tradition of having a family dinner in mid-late October that kicks off the family holiday dinner season.
How to make it? Well, the biggest challenge in this area is finding a source for a pig stomach. I recommend Reese's Market, a decidedly "old-school" market that's located roughly between Port Matilda and Bald Eagle on South Eagle Valley Road. Along with the hog maw itself, they also offer an excellent country sausage that works well in a hog maw recipe. They also have a nice selection of fresh meat from local sources at excellent prices, and a variety of other items. They are the classic example of a country store, with all sorts of items being sold, and a friendly staff.
Once you buy the stomach, you need to stuff it. This is another aspect of the recipe that varies with region and even family. The base of hog maw stuffing is sausage, potatoes, onions, and parsley. From there it can vary. Some people add either carrots, apples, cabbage, celery, or any combination of those. Others, especially in far eastern Pennsylvania, use sliced smoked link sausage. Some do a 50/50 mixture of hamburger/sausage.
The following recipe is based on what my mother used to make on those October family dinners that will always be a fond memory of mine. You can serve this with a brown gravy, tomato sauce, ketchup, or just on its own. Give it a try…it's a culinary adventure with a delicious payoff.
Hog Maw
Note: This is for one pig stomach and will serve 4-5 with side dishes. Do not be alarmed if the pig stomach seems small, as it will stretch to accommodate a fair amount of stuffing.
Ingredients
- One pound of loose country sausage (sweet sausage will work okay if you can't find country sausage)
- One pound of 80/20 or 85/15 ground beef
- 4-5 medium potatoes, diced (can leave the skins on)
- One medium onion, diced
- Quarter cup fresh chopped parsley (or two tablespoons dried parsley)
- Salt and pepper to taste (keep in mind country sausage will bring some saltiness, use care to not over-salt)
Steps
- Clean the stomach under running water, taking care to wash thoroughly. Please note: be sure to inspect the stomach to make sure it's the lining, it should be very thin. Also, if there's any fat, trim it off.
- Mix all ingredients other than stomach in a large bowl. Be sure to thoroughly mix to blend all ingredients.
- Stuff the stomach. Make sure it gets all the way to the end of the stomach. As you'll see, the stomach will expand to fit all the filling. If you have any leftover, you can put it in a oven-usable dish to bake along with the hog maw.
- Put the maw or maws into a roasting pan, preferably with a rack (but not necessary).
- Preheat oven to 400, and put covered roasting pan in oven. Roast at 400 for 30 minutes, then cut back to 350.
- After 45-60 minutes at 350, remove cover and roast uncovered for 30-45 more minutes, or until the "skin" is solid brown (the "skin" is actually thin pork meat, and it's quite good with a crisp/chewy consistency when brown).
- Remove from oven, let sit for five minutes, place on serving tray and carve. It often carves into nice slices, but you can encourage people who don't want the casing to scoop out the meat/potatoes.
Optional: You can make a pretty good pan gravy with the dripping from the hog maw.
Author: Jamie Oberdick
Bio: Editor, Local Food Journey | Passionate about supporting local food in Central PA