Posted by Jamie Oberdick on 04/18, 2014 at 02:03 PM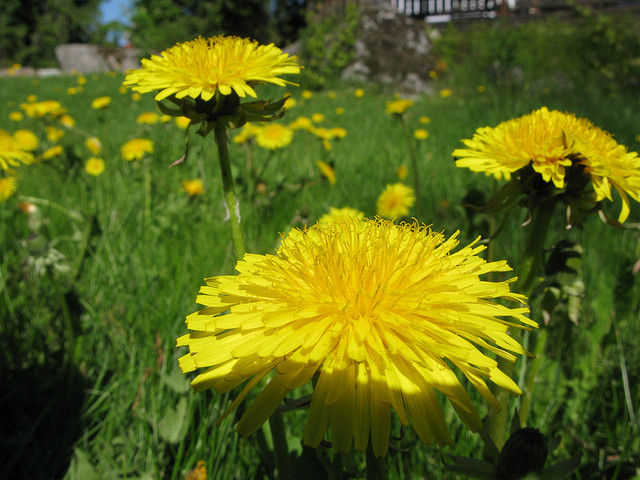 To many, the image above may cause anger because the dandelion is considered one of the worst lawn and garden weeds to control. However, to many of the Pennsylvania Dutch persuasion, dandelions are good to eat and are a staple at the Easter table. They are, as we all know, quite plentiful and are ready to harvest right now so you can gather enough for Easter dinner.
There are two key points to remember when harvesting dandelions. First, perhaps most importantly, make sure you are not harvesting greens from ground that has been hard hit with herbicides and other chemicals. In fact, there are cultivars of dandelions that you can grow in your garden. Second, you must harvest the greens before the flower head appears. Once that happens, they become so bitter they are inedible.
A classic dandelion dish that plains means spring to a Pennsylvania native like myself is dandelion salad with hot bacon dressing. This is a rich salad that while is not exactly low-calorie, packs a lot of nutrition thanks to the dandelion leaves, which are extremely nutritious. They also pack a lot of flavor, as the sweet, vinegary, and smoky flavors of the bacon dressing lessens the bitterness of the dandelion without eliminating it entirely. It's a very easy recipe as well.
Here's the recipe for dandelion salad with hot bacon dressing:
Ingredients
- Enough young dandelion leaves for 6 to 8 salads
- 5-6 pieces of Hogs Galore bacon and half of the drippings
- 1 1/2 cups water
- 2 tbs flour
- 3-4 tbs apple cider vinegar
- 5-6 tbs sugar
- 1 tbs brown mustard
- Black pepper to taste
- 2 hard-boiled eggs, diced and crumbled
Steps
- Thoroughly wash dandelion leaves, then dry
- Fry bacon, remembering to reserve half of the drippings
- Combine flour, mustard, pepper, sugar, vinegar, bacon drippings, and water in saucepan, stirring well to combine.
- Thicken over medium heat, stirring frequently to avoid burning.
- Pour the hot dressing over greens, lightly toss in serving bowl
- Top with crumbled bacon and diced/crumbled hard-boiled eggs
Author: Jamie Oberdick
Bio: Editor, Local Food Journey | Passionate about supporting local food in Central PA