Posted by Jamie Oberdick on 02/08, 2017 at 01:25 PM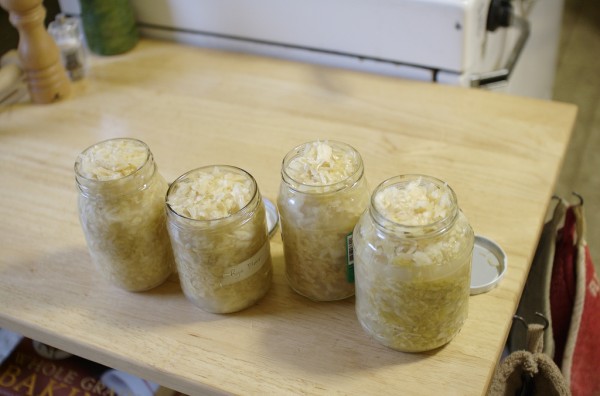 Sauerkraut is the quintessential Pennsylvania Dutch food. In William Woy Weaver's book As American as Shoofly Pie: The Foodlore and Fakelore of Pennsylvania Dutch Cuisine, Weaver mentions that he has uncovered literally thousands of sauerkraut recipes that are Pennsylvania-based.
While not as popular as it once was, sauerkraut is still a big part of the Pennsylvania diet, even if it's just as part of a good luck meal at New Year's. But sauerkraut doesn't have to be just for special occasions, it can be part of easy-to-make winter weeknight meals.
Sauerkraut goes well with pork, of course, but especially goes well with another Pennsylvania staple, kielbasa. The Polish sausage has a nice smoky flavor that does well with sauerkraut's sourish tastes.
This recipe combines sauerkraut and kielbasa with apples and potatoes for a hearty but healthy winter's casserole. It not only is good fresh out of the oven but excellent reheated for lunch the next day. It can also be made a day ahead for a potluck or weeknight dinner.
Sauerkraut and Kielbasa Winter Casserole
Ingredients
2 tablespoon extra-virgin olive oil
1 large onion, sliced thin
1½ teaspoons caraway seeds
1 tablespoon dried thyme or parsley
1 large local sweet-tart apple, such as macintosh, braeburn, etc., chopped
1 cup local white wine
 (dry or semi-dry is better)
10 ounces kielbasa, cut into ½-inch slices (you can find local kielbasa at places like Hogs Galore or at one of the winter farmers markets)
2½ cups drained sauerkraut, well rinsed
3 tablespoons cider or white whine vinegar
1 tablespoon spicy mustard (Big Al's Sweet and Spicy Mustard is perfect for this)
1/2 teaspoon freshly ground pepper
2 large potatoes or 3 medium potatoes, thinly sliced
1 tablespoon butter, melted

dash of salt (kielbasa will add salt to this dish so don't overdo it)
Steps
- Preheat oven to 400
- Heat a tablespoon of the oil in a large skillet over medium heat.
- Add onion and cook, stirring, about 5 minutes.
- Stir in caraway seeds, cook for about 20-30 seconds.
- Add apple and wine; increase heat to medium-high and stir until some of the wine has evaporated, about 3-4 minutes.
- Stir in sausage, sauerkraut, vinegar, mustard, parsley/thyme, and pepper, remove from heat.
- Transfer to a 9-by-13-inch (or similar 3-quart) baking dish.
- Toss potatoes in a large bowl with rest of oil and the melted butter, lightly salt.
- Cover the casserole with a layer of overlapping potatoes.
- Bake for about one hour or until the edges of the potatoes turn brown and crispy.
- Serve with extra mustard and a good crusty bread.
Author: Jamie Oberdick
Bio: Editor, Local Food Journey | Passionate about supporting local food in Central PA