Posted by James Sechrengost on 07/24, 2014 at 04:07 PM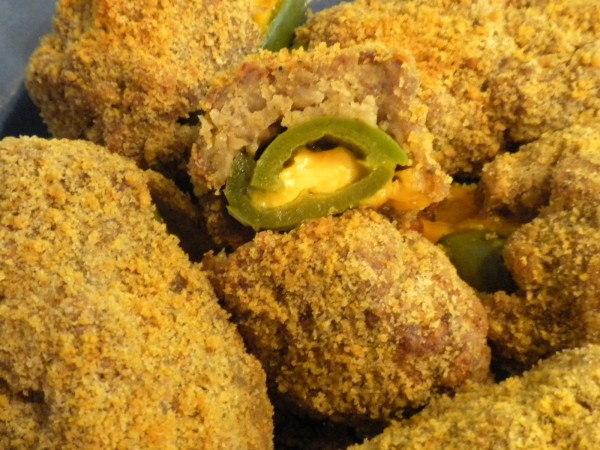 When I was stationed in Southern California I went to my first Renaissance Fair. It was held on the fairgrounds where the US Festival back in the 80s was held in the Cajon Pass near San Bernardino CA. It was later the Blockbuster Pavilion and then something else. It was at the Renaissance Fair that I was introduced to Scottish Eggs.
I know, I know, the recipe is for Armadillo Eggs but you need a little background. This is the first time I ever had anything wrapped in sausage and fried. I mean who wouldn't like a complete breakfast all in one item. Imagine a hard boiled egg, wrapped in sausage, rolled in bread crumbs, and deep fried or baked. So when I was visiting a friend in Texas he took me out to dinner. It was here I was introduced to Armadillo Eggs.
Now, I knew an armadillo was a mammal and didn't lay eggs. So when my friend ordered them my curiosity was piqued. When they came to the table they were huge! They looked like goose eggs. My friend looked on as I picked one up and examined it. It was golden brown and looked like a large version of the Scottish Eggs. See I told you there was a tie in. So remembering how much I enjoyed Scottish Eggs I took a huge bite. Stupid me I forgot where I was. I was not expecting the jalapeno, but, after the initial shock I really enjoyed the texture and various flavors involved. It took me a few years to get the recipe right but eventually I did and here it is for all to try. Remember, no armadillos were harmed in the making of these eggs.
Ingredients
- 20 medium jalapeno peppers
- 4 ounces cream cheese
- 1/2 cup sharp cheddar cheese, shredded
- 1/2 cup Monterey Jack cheese, shredded
- 1/8 teaspoon salt
- 1/4 teaspoon chili powder
- 1 lb. bulk pork sausage (any flavor)
- 8 ounces sharp cheddar cheese, shredded
- 1 1/2 cups Bisquick or other baking mix
- 3 eggs, beaten
- 1 cup ranch dressing or BBQ sauce (optional)
- 2 packages "Shake 'n' Bake" coating for pork (I found this a nice short cut. You can use seasoned bread crumbs if you don't like Shake and Bake.)
Steps

- Remove seeds and membranes from peppers. (Two ways you can do this. First way is to cut off top and slice jalapeno down one side and scoop out seeds and membrane. I find it easier if you just cut them in half, keeping the two halves near each other so they can be put back together after stuffing)
- Beat together cream cheese, 1/2 cup cheddar cheese, 1/2 cup Monterey Jack, salt, and chili powder.
- Fill peppers with cheese mixture.
- Mix together sausage, 8 ounces cheddar cheese and Bisquick.
- Take this mixture and form around each pepper, enclosing completely.
- Dip into beaten egg and roll in coating mix.
- Arrange on greased baking sheet.
- Bake at 350 degrees for 25-30 minutes until golden brown.
- Let cool slightly as the cheese inside is molten hot. I like to dip them in ranch or BBQ sauce.
Author: James Sechrengost
Bio: Computer Guru | World Traveler and Foodie Extraordinaire | Member of the Been there Done that Club