Posted by Christina Barkanic on 02/03, 2011 at 04:54 PM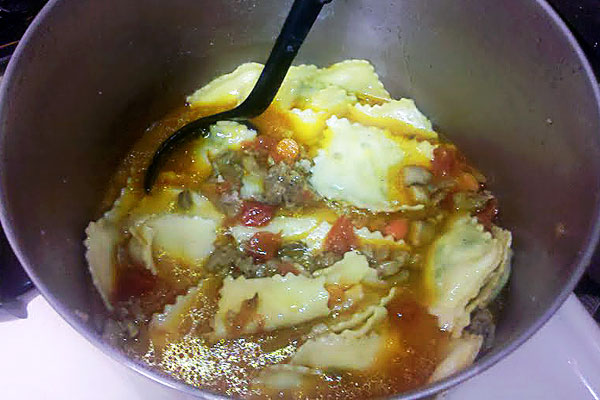 There's nothing more satisfying than a tasty soup to warm up a cold, snowy day. This flavor-packed soup will definitely do the trick, not to mention, it's very simple to make!
Ingredients
16 oz sausage (casing removed)
1 large can diced tomatoes
12-16 oz frozen ravioli (try spinach and 3-cheese ravioli from Fasta)
1 large can chicken broth (64 oz)
3 stalks diced celery
1 white onion
1 cup chopped carrots
1 cup mushrooms
4-5 minced garlic cloves
1-2 tbsp olive oil
salt and pepper to taste
Directions
In a large stock pot, sauté sausage in olive oil until brown. Add onions, celery, carrots, mushrooms, and garlic. Then add tomatoes and let simmer for 20-25 minutes.
Add chicken broth and bring to a boil.
Add frozen ravioli and bring to a boil again. Cook until ravioli floats to the top, 3-5 minutes.
Remove from heat and let soup sit for about 15 minutes until the flavors to blend. Then enjoy your delicious soup!
Note: You can also experiment with different pastas, such as tortellini, and gnocchi. And feel free to add zucchini, squash, or any of your favorite vegetables!
Author: Christina Barkanic
Bio: Christina is a senior at Penn State majoring in broadcast journalism and minoring in sociology. She has a passion for journalism, the outdoors, good food, and good company. Ideally, she would like to combine all four by producing her own nature meets organic cooking show one day.