Posted by James Sechrengost on 10/02, 2013 at 12:37 PM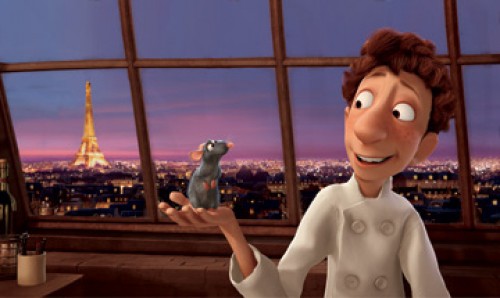 A number of years ago a friend of mine had a daughter who was battling cancer. She was going through a very hard time with treatment and became depressed. Now this young lady absolutely loved the movie "Ratatouille."
So one day I stopped by with a bag of ingredients and two chef's hats. On hers I had printed "REMY" with "Little Chef" in small letters right below it like the movie. On mine I had printed "GUSTEAU." We spent the entire afternoon in the kitchen recreating the recipe for the title "Ratatouille." Her and her mother both still bring up that day whenever I stop by to visit. So you see, it doesn't take a lot of money to make a difference to someone. Just some of your time and willingness to make a difference in someone's life. Here is the recipe that we came up with:
Ingredients
- 1 pound eggplant, sliced in rounds
- 1 pound zucchini, sliced in rounds
- 1 pound bell peppers, sliced
- 2 cloves garlic, finely minced
- 1 pound tomatoes, peeled and quartered
- 3 onions, chopped
- Olive oil
- Bay leaf
- Sprig of thyme
- Salt and pepper
Steps
1. Wash and slice all of the vegetables. To peel the tomatoes drop them in boiling water for about 10 seconds and then in to an ice bath. Use a sharp paring knife to help slip off the peel.
2. Heat 2 tablespoons olive oil in a skillet on medium heat. Add the sliced eggplant and cook, turning occasionally for five minutes. Sprinkle with salt and pepper and remove the eggplant from the skillet.
3. Add 1 tablespoon olive oil to the skillet and add the zucchini slices. Repeat step 2 cooking times.
4. Repeat the procedure for the bell peppers.
5. Heat 2 more tablespoons olive oil in a Dutch oven on medium heat and add the onions. Cook, stirring occasionally, for five minutes or until translucent but not starting to brown.
6. Add the tomatoes and the other vegetables. Stir to combine and then add the bay leaf and thyme. Cover and cook on low heat for 30 minutes.
7. Add the garlic. Add salt and pepper if needed and cook covered for another 10 minutes.
Author: James Sechrengost
Bio: Computer Guru | World Traveler and Foodie Extraordinaire | Member of the Been there Done that Club