Posted by Emily Wiley on 06/17, 2010 at 01:25 PM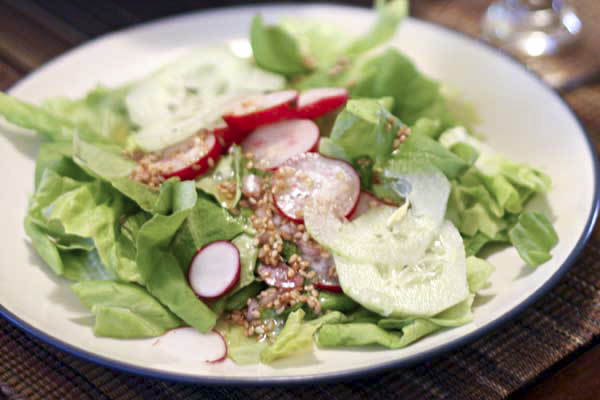 Root vegetables aren't just consumed during cold weather. The radish is a root vegetable that is available in Pennsylvania during the months of May, June, July, and September. It is during these warm months that the crop is at its sweetest.
The harvest cycle of the radish is short (just 3-4 weeks), which makes it a popular choice for backyard gardens. Summer radishes grow best in full sunlight and are generally small with bright red skin.
Radishes are typically eaten raw in salads and are crisp with a slightly peppery flavor. They are rich in folic acid and potassium and are a good source of calcium.
This simple recipe combines raw radishes and their summer sister, the cucumber, with a light shallot dressing. (Yields 2 servings.)
Ingredients
2 Tbsp sesame seeds
1 Tbsp finely chopped shallot
2 Tbsp red wine vinegar
1/4 extra-virgin olive oil
salt and pepper
1 head Bibb lettuce, cleaned and separated
4 radishes, thinly sliced
1/4 cucumber, thinly sliced
Directions
Toast sesames in a small pan over low heat until fragrant. Place shallots and vinegar in a bowl and let them stand for 10 minutes. Add sesame seeds, and stream in the oil while whisking. Season with salt and pepper.
Arrange lettuce, radishes, and cucumbers on plates and pour dressing on top.
(Adapted from Rachael Ray)
Purchase Rachael Ray 2, 4, 6, 8 Great Meals for Couples or Crowds. Support WPSU
WPSU is now a member of Amazon's Associate program. When you make purchases from Amazon by following links from our website, WPSU will receive a portion of the sale with NO extra cost to you.

Buy Rachael Ray 2, 4, 6, 8 Great Meals for Couples or Crowds.
-or- Click here to support WPSU through any purchase from Amazon.com
Author: Emily Wiley
Bio: WPSU Multimedia Producer | Wife and Mother | Lover of Food and Photography | One-Half of The Culinary Couple