Posted by Jamie Oberdick on 02/08, 2012 at 03:08 AM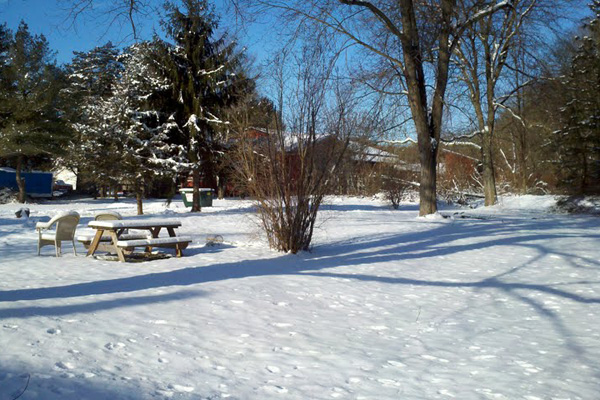 During my garden harvest season, which stretches from summer through much of fall, I preserve a lot of what we get from our backyard in two ways—canning and freezing.
I like to do both because of cooking flexibility. You can do a lot of great things with canning: sauces, relishes, pickles, etc. But freezing for me tends to be about just the vegetable/fruit.
Freezing enables me to pull out something to cook with from my garden when it's snowing and 18 degrees outside. It's also not as labor intensive as canning. The process of freezing varies with each veggie, but the basics include blanching to preserve and freezing everything airtight to stave off freezer burn.
You can't put frozen vegetables in a salad (with a few exceptions, like corn), but they work really well in cooked recipes.
We currently have a wide variety of stuff in our freezer. We have sliced Italian edible gourd that we bread and oven fry for an incredibly flavorful breaded vegetable that tastes like a cross between asparagus and zucchini. We have yellow carrots, Italian kale, blue hubbard squash, Chinese mustard greens, zucchini, tomato sauce, diced tomatoes, Chinese long beans, and more.
A nice way to use frozen vegetables is in pasta dishes. The aforementioned Italian kale (Tuscan or dinosaur kale to be exact) makes a wonderful addition to pasta dishes. Below is a recipe for one (please note the simple alterations to make this meat-free for vegetarians):
Penne with Bacon and Tuscan Kale
1 lb penne pasta (try Fasta Ravioli Company)
1/2 lb cooked bacon, cut into small pieces (leave out for vegetarian version)
10-12 oz of frozen kale, thawed/drained (you may also use frozen kale from the supermarket)
1 onion, diced
1/4 - 1/2 cup chopped sun-dried tomatoes
2-3 cloves garlic, minced
1/2 cup chicken broth (vegetable broth for vegetarian version)
2 Tbsp fresh basil (or 1 Tbsp dried basil)
2 Tbsp extra-virgin olive oil
shredded romano cheese
salt and pepper
Cook penne according to package directions, drain well.
Cook bacon until just crispy, drain on towels, chop.
Add olive oil to a pan, add onion and garlic, cook until onion is translucent (stir frequently to avoid burning). Add sun dried tomatoes and bacon, stir to combine. Add basil and kale, stirring to combine and cook until heated through. Add chicken/veggie broth, and stir.
Add pasta and toss to coat/heat pasta. Shred about 1/4 cup romano and toss well. Add salt and pepper to taste (go easy on the salt since broth/cheese will add salt).
Serve hot with additional romano on top and serve with bread from Gemelli Bakery.
Author: Jamie Oberdick
Bio: Editor, Local Food Journey | Passionate about supporting local food in Central PA