Posted by Christina Barkanic on 01/31, 2011 at 06:50 PM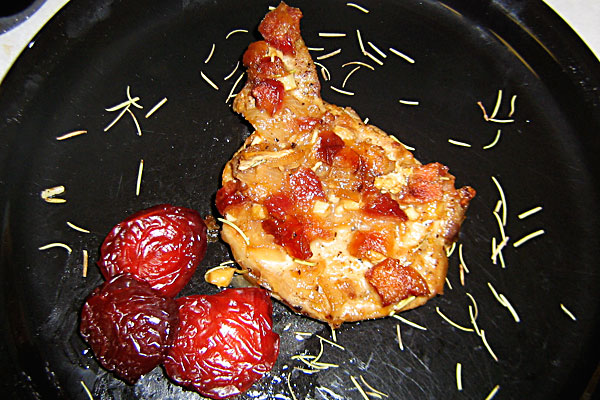 Pork is a great substitute for traditional chicken dishes that can get repetitive and boring. For this dish, garlic, shallots, and dried plums (which add a sweet zest to the sauce) compliment each other and are absorbed by the pork chops. This is a quick and easy recipe that will please all!
serves 4
Ingredients
2 tablespoons olive oil
4 pork chops
1/2 cup chopped organic shallots (from Nature's Pantry)
4 cloves minced garlic (from Nature's Pantry)
1 cup chicken broth
1/2 cup chopped dried plums (from Nature's Pantry)
1/3 cup balsamic vinegar
1/2 teaspoon dried thyme leaves
Directions
In a skillet, heat oil over medium heat. Place the pork chops in the oil, and cook until brown on each side. Then set them aside on a different plate. In the same skillet, add shallots and garlic, and stir until softened, 3-5 minutes. Add the chicken broth, dried plums, balsamic vinegar, and thyme. Bring to a boil over high heat. Reduce heat, and cook sauce until it has thickened, about 5 minutes. Generously spoon over the pork chops. Allow the sauce to absorb into the meat for 5-10 minutes before serving.
Author: Christina Barkanic
Bio: Christina is a senior at Penn State majoring in broadcast journalism and minoring in sociology. She has a passion for journalism, the outdoors, good food, and good company. Ideally, she would like to combine all four by producing her own nature meets organic cooking show one day.