Posted by Jamie Oberdick on 04/05, 2012 at 06:17 PM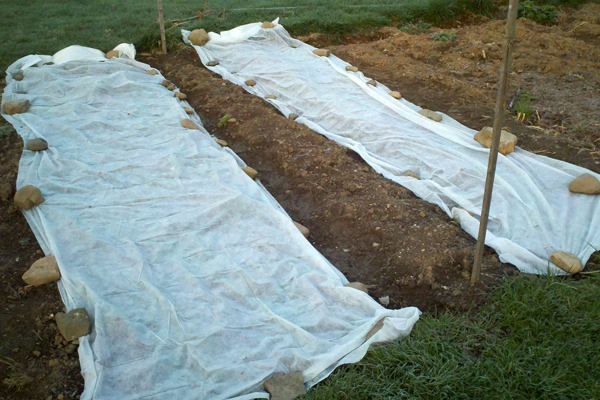 As you probably noticed, the weather in mid-March was more along the lines of early June. This caused some absolutely incredible early spring scenes as spring growth is about a month ahead of schedule—blossoming trees, daffodils in full display, and perennials peaking out of the dirt at a much earlier date than normal.
For us gardeners, it was so tempting to get out there and plant something. So I did. I planted several rows in my garden, knowing full well that they would need protection later from the inevitable cold snap. If you still haven't planted, no worries—you still have lots of time to plant cold-hardy vegetables in your garden.
First off, what are cold-hardy vegetables? Basically, any vegetable plant that can tolerate frost. So, you can plant them before the last frost date for your area, which can be found on this map. Mustard greens, spinach, Asian cabbage, swiss chard, and lettuce are a few examples.
It's a good idea to plan what you are expecting to plant. This includes going through the seeds that you bought and researching planting dates. Some of the more cold-hardy plants like mustards, spinach, and peas need to be planted pretty early. Others like certain lettuces are less cold-hardy and need to be planted closer to your local last frost date.
You also need to find out how to plant them. Varieties often have different seed planting depths—something you need to pay attention to before heading out to the garden. Also, there are some types of cold-hardy vegetables that need to be started inside up to two months before the last frost date.
Once planted, you still need to monitor weather forecasts to keep an eye out for very cold temperatures. Temperatures well down into the 20s are going to require covering your plants. One solution is the floating row cover. It doesn't, well, float in the air, but it is lightweight enough to cover your plants and still allow light and rain to get to them. The cover traps heat from the day and releases it at night. Another bonus is the cover keeps insect pests off your plants.
These plants really do need cool weather. If you get a sudden early season heat wave, some greens will "bolt," or produce a flower stalk. At that point, they become bitter and inedible.
Of course, there's also harvesting vegetables in spring, as opposed to waiting until summer.
Author: Jamie Oberdick
Bio: Editor, Local Food Journey | Passionate about supporting local food in Central PA