Posted by James Sechrengost on 09/18, 2013 at 01:07 PM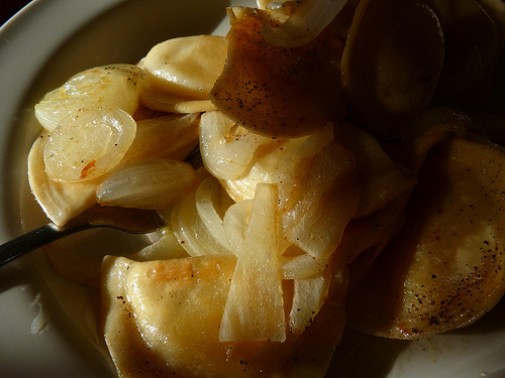 When I was but a wee lad…okay, who am I kidding I was never a wee lad. How about…when I was a young child my grandmother used to make pierogi by the dozens. She would make potato and cheese, sauerkraut, ones stuffed with meat, and even dessert ones. Being the ever inquisitive child I was (okay, okay, being the pain in the neck, nosy, kid that I was) I always wanted to help.
Finally, when they thought I was old enough, they put me on filing duty. I was supposed to place one heaping spoon of filling in the middle of each pierogi shell. Well, after the initial "one spoon for the shell, one for me" method I actually managed to do about two dozen pierogi. With my ever expanding stomach and boredom, the filling wasn't quite in the middle anymore but I was still working at it.
After another dozen, I came to realize this was more like work than play and didn't want to do it anymore. My grandmother made me stay and finish the job. I got the lecture about not starting something unless I was willing to finish it. I still have lesson ingrained into me.
That's why I don't make them often as I know how much work they can be. Every time I do, I feel my grandmother is looking down at me, making sure I finish the job even if I still put one spoonful for the shell and one for me.
Here's a recipe for potato and cheese pierogi:
Ingredients
DOUGH:
4 cups all-purpose flour
1 teaspoon salt
1 cup plus 2 tablespoons cold water
3 large egg yolks
FILLING:
4 medium-size all-purpose potatoes, peeled and cut into small chunks
2 tablespoons butter, plus extra for frying
1 small onion, finely chopped
1 large onion sliced longwise and then sliced into very thin slices or half rings
1/4 - 1/2 cup grated cheddar cheese, or slightly more, to taste
Salt to taste
Directions
1. To make the dough, combine the flour and salt in a large mixing bowl.
2. Make a well in the center and add the water and egg yolks. With a wooden spoon, stir constantly until the dough holds together, adding a little more water if necessary.
3. Turn the dough onto a lightly floured surface and knead it for 2 minutes. Put the dough back in the bowl, cover it with plastic wrap, and set it aside.
4. For the filling, boil the potatoes in a large saucepan of salted water for about 10 minutes or until the potatoes are soft.
5. Drain the potatoes, and then mash them by hand.
6. Meanwhile, melt 2 tablespoons of butter in a small skillet. Add the onion and sauté for 5 minutes, stirring often. When done set the onions aside to cool.
7. Add the onion, cheese, and salt to the potatoes and mash them in.
8. Bring a large pot of salted water to a boil.
9. Meanwhile, break the dough into quarters. Roll one out thin on a floured surface.
10. Using a biscuit cutter or a water glass, cut the dough into circles. Repeat with the other 3 quarters until all the dough is used.
11. Put a heaping teaspoon of filling in the center of each circle.
12. Moisten the edge of the circle with a wet fingertip, then fold it in half and press the edges together firmly to seal.
13. Drop the pierogi, 8 to 10 at a time, into the boiling water. Simmer until the pierogi rise to the surface, and then continue to simmer for 4 to 5 minutes more.
14. Next, melt a little butter in a large skillet. Sauté some of the half ring onions till translucent.
15. Using a slotted spoon, transfer the pierogi from the water into the skillet. Cook them in the butter over medium high heat for several minutes, until lightly browned on both sides.
16. Serve hot and garnish with sautéed onion and a little extra cheese, if you like. Makes 4 to 5 dozen.
Author: James Sechrengost
Bio: Computer Guru | World Traveler and Foodie Extraordinaire | Member of the Been there Done that Club