Posted by Jamie Oberdick on 06/22, 2017 at 01:26 PM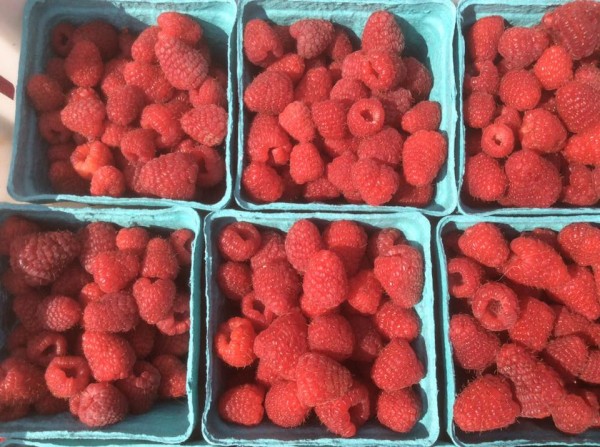 The Bee Tree Berry Farm is a berry lovers' dream.
Not only does the farm offer "standard" berries like strawberries, red and black raspberries, blueberries, and blackberries, but other types you might not find in a grocery store, such as gooseberries, elderberries, and currants. While the farm is a berry lovers' dream, it is also the realization of a dream of its owners, Mark and Laura MacDonald.
Mark said that they have been developing the farm, located near Zion, over the past five years. They are now fully planted. "Laura and I have both been in horticulture all of our lives, me as a golf course superintendent for 32 years and Laura in retail greenhouse sales," he said. "As our semi-retirement, we thought we could fulfill our dream of having a farm and it lead us here to Centre county in 2012."
Along with the myriad of berries, they also grow sweet cherries and a wide array of vegetables. All of the berries are available either fresh picked or u-pick. Currently, they have strawberries and red raspberries available with blueberries within a week or so.
Thanks to some shrewd planning, Bee Tree Berry Farm's berry season lasts from around Memorial Day to the end of October. "During our development, we trialed many varieties of each berry so we could have a continuous flow of a few different fruits throughout the season," Mark said. "Strawberries and raspberries are the backbone to our plan, as strawberries yield from May until October, and raspberries yield from mid-June through October.
Other berry times include blueberries, late June until mid-August; blackberries from late July to late October; and black raspberries in September/October.
A berry that Mark said is becoming quite popular is elderberry. "They are great for pies, jam, and wine, but we also get a lot of folks who pick them for a natural cold and flu remedy," he said. "They have proven to be so surprisingly popular that we added an additional 40 plants to our original 20."
While the berries are delicious and make for great recipe ingredients, Mark said there's other, more esoteric benefits to picking berries at Bee Tree Berry Farm. "The best part about our u-pick farm is seeing all the families of all ages coming together for a fun day," he said. "It is very rewarding to hear folks say how relaxing and almost therapeutic it is for them to come out, pick a few berries, and take in the scenery of the beautiful Nittany valley."
Learn more about Bee Tree Berry Farm, including location, hours, and more, at their Facebook page.
Author: Jamie Oberdick
Bio: Editor, Local Food Journey | Passionate about supporting local food in Central PA