Posted by Christina Barkanic on 02/15, 2011 at 03:36 PM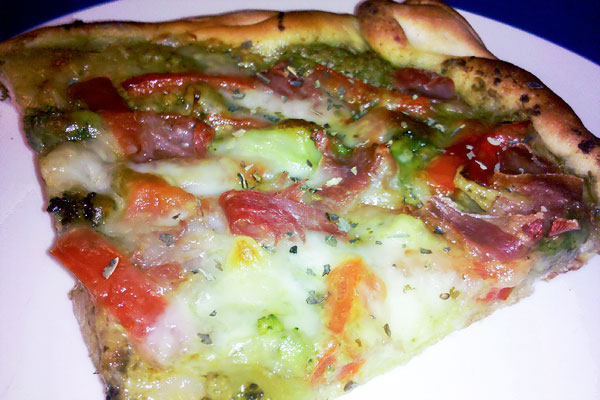 Try homemade pizza tonight in place of delivery. It will be hot out of the oven in the same amount of time a cardboard box could arrive on your doorstep—and it's much more satisfying.
What are your favorite pizza toppings?
Ingredients
1 can pizza dough
5 tablespoons pesto sauce
3 oz package thinly sliced prosciutto, torn into pieces
1 thinly sliced red pepper
1/2 cup broccoli
2-3 gloves minced garlic
Fresh mozzarella thinly sliced
Directions
Preheat oven to 500°F. In a skillet, sauté pepper and broccoli with 1 tablespoon olive oil. Then stretch dough onto parchment paper. Using the back of a spoon spread pesto over dough. Add pepper and broccoli on top. Then add the mozzarella and shredded prosciutto. Place pizza on a baking sheet and bake until crispy and golden, about 7 minutes.
Author: Christina Barkanic
Bio: Christina is a senior at Penn State majoring in broadcast journalism and minoring in sociology. She has a passion for journalism, the outdoors, good food, and good company. Ideally, she would like to combine all four by producing her own nature meets organic cooking show one day.