Posted by Emily Wiley on 01/11, 2011 at 07:03 PM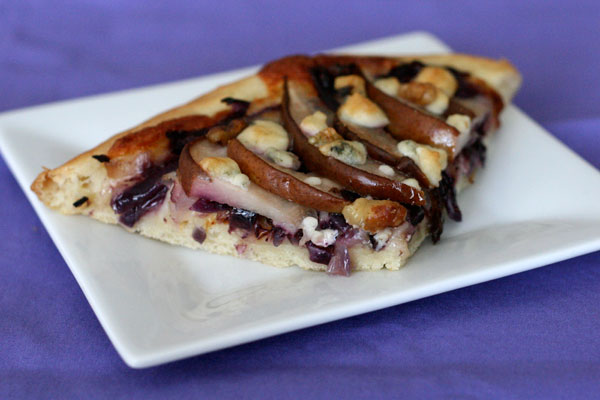 Pears are sweet and juicy and provide a bright note to cold weather meals. They pair nicely with pungent and creamy cheeses, caramelized onions, and walnuts — all of which have a place on this pizza.
What's on your January pizza?
Ingredients for Pizza Crust
1 teaspoon instant or active dry yeast
1 1/2 cups warm water
4 cups all-purpose flour
1 teaspoon kosher salt
1/3 cup olive oil
Directions for Pizza Crust
Makes 2 pizza crusts.
Sprinkle yeast over 1 1/2 cups warm water. Let stand for a few minutes.
In a mixer fitted with a paddle attachment, combine flour and salt. With mixer running on low speed, drizzle in olive oil until combined. Add yeast/water mixture and mix until combined, and the dough comes together in a sticky mass.
Coat a separate mixing bowl with a light drizzle of olive oil, and form the dough into a ball. Toss to coat dough in olive oil, then cover the bowl tightly with plastic wrap and set aside for 1-2 hours.
Take half of the pizza dough (store the other half in the refrigerator for up to 4 days) and form it into a nice, tight ball. Roll with a rolling pin, or toss it around and pull and stretch it. When the crust is nice and thin, lay it on an oiled baking sheet or pizza pan. Drizzle a little more olive oil onto the dough and spread with your fingers. Sprinkle a little bit of salt on top.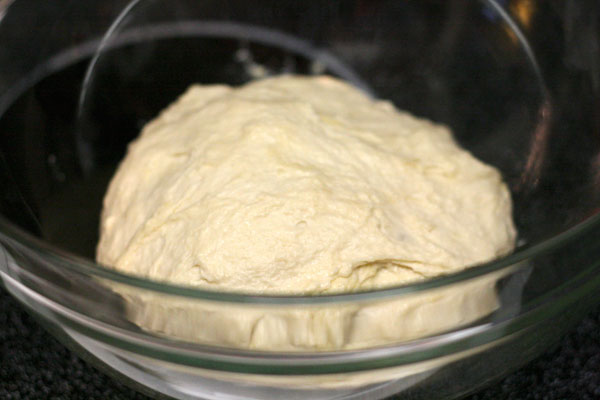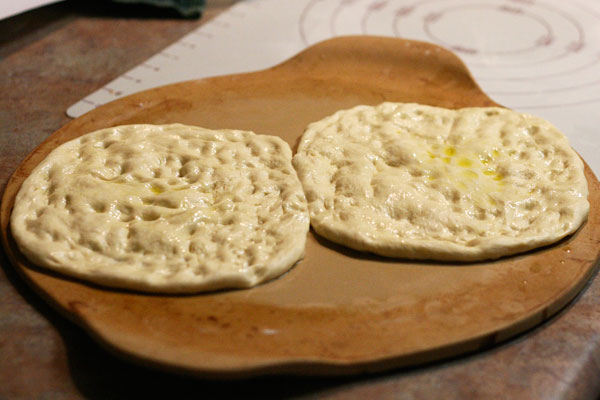 (Adapted from The Pioneer Woman)
Ingredients for Pizza
Makes 1 pizza.
1 red onion, sliced thin
1 tablespoon olive oil
1 tablespoon butter
1 Bartlett pear, sliced thin
2 Seckel pears, sliced thin
4 slices provolone cheese
1/2 cup Gorgonzola cheese
1/2 cup chopped walnuts
Directions for Pizza
Preheat oven to 375°F.
To caramelize onions: Add olive oil and butter to a sauté pan over medium heat. Add onions and cook for at least 30 minutes, stirring occasionally, until onions are deep brown in color and fragrant.
To build pizza: Start with provolone cheese, followed by onions and pears, and sprinkle Gorgonzola cheese and walnuts on top.
Bake for 15-17 minutes, or until crust is golden brown and toppings are bubbly.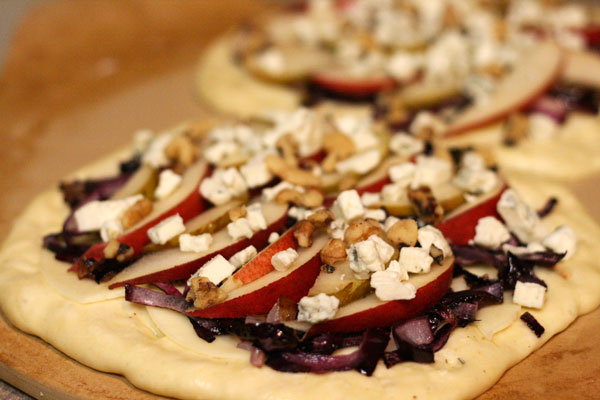 Author: Emily Wiley
Bio: WPSU Multimedia Producer | Wife and Mother | Lover of Food and Photography | One-Half of The Culinary Couple