Posted by Michele Frank on 11/11, 2010 at 06:52 PM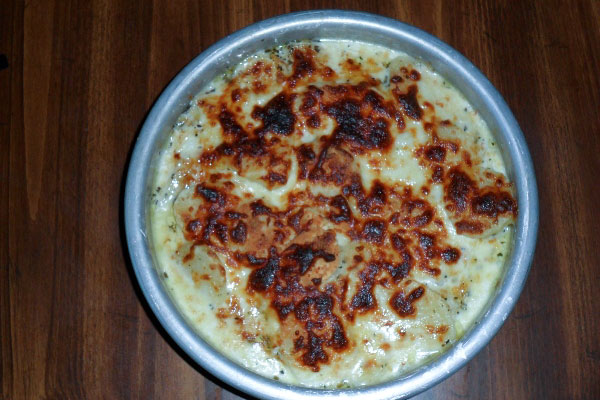 My grandmother makes homemade potatoes au gratin for every big family event. I love her recipe, and I wanted to experiment with locally grown parsnips before they disappear into winter. The outcome is a delicious twist on an old favorite.
Ingredients
2 Tbsp garlic, minced
2 lbs potatoes, peeled and thinly sliced
1 lb parsnips, peeled and thinly sliced
1 Tbsp basil, finely chopped
Salt and ground pepper
8 oz Swiss cheese, shredded
2 cups half and half
1/2 cup Parmesan cheese
Butter to rub on the casserole dish
Directions
Preheat the oven to 350˚. Butter the bottom of a casserole dish, and add the minced garlic. On top of the garlic, arrange a layer of thinly sliced potatoes and parsnips. Season with a sprinkling of basil, salt, and pepper. Cover with another layer of potatoes and parsnips and season. Continue the layering process until all vegetables are in the casserole dish.
Add Swiss cheese and half-and-half to a saucepan over medium heat. Cook until the cheese is completely melted, and pour it over the casserole dish.
Cover with foil and bake for 45-50 minutes. Remove from the oven and heat the broiler. Add the Parmesan cheese to the top and place under the broiler for 5 minutes, or until golden brown. Let stand for a couple of minutes before serving.
Author: Michele Frank
Bio: Michele is a senior at Penn State majoring in print journalism. She loves to cook for her friends and family, and wishes to make a career out of her hobby. She spent last summer working for Gulfshore Life Magazine in Naples, Fla.