Posted by Christina Barkanic on 03/29, 2011 at 04:27 PM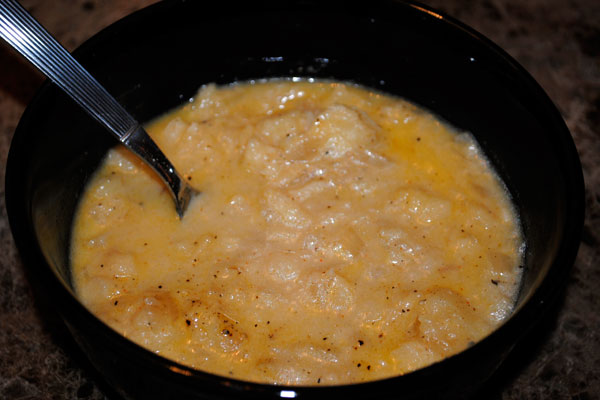 It's almost April, and spring foods like green peas and asparagus are just around the corner. However, until the cold weather leaves for good, keep warm with a bowl of parsnip soup. This root vegetable is closely related to the carrot with a distinct sweet and butter flavor, which is ideal for this hearty soup.
Ingredients
2 tablespoons margarine (or butter)
1 medium onion, chopped
1 pound parsnips, peeled and cubed
3 cloves chopped garlic
2 teaspoons cayenne pepper
3 1/4 cups boiling water
1/2 cup skim milk
salt and black pepper to taste
Directions
Melt the butter in a large saucepan over medium heat. Fry the onion and garlic in the butter until softened and lightly browned. Then add the cubed parsnips to the saucepan.
Meanwhile, bring water to a boil. Once the water is boiling, add it to the saucepan with the parsnips and onions. Stir and simmer for about 20 minutes until the parsnips are soft.
Add milk to the pot, along with cayenne pepper, salt and, black pepper. Simmer on low heat for about 5 minutes to let the flavors blend together. Then enjoy your root vegetable soup!
Author: Christina Barkanic
Bio: Christina is a senior at Penn State majoring in broadcast journalism and minoring in sociology. She has a passion for journalism, the outdoors, good food, and good company. Ideally, she would like to combine all four by producing her own nature meets organic cooking show one day.