Posted by Jamie Oberdick on 09/14, 2016 at 02:24 PM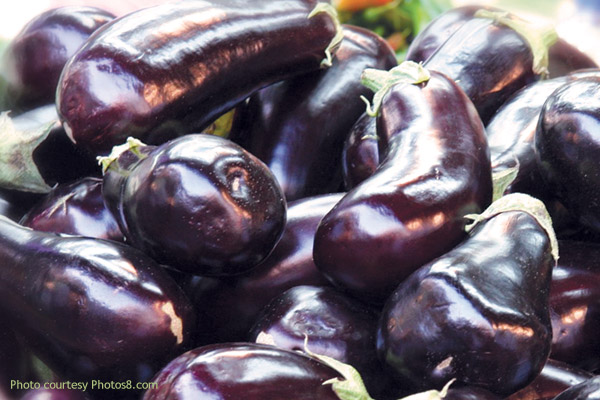 This recipe combines two great things about September. First, one of my favorite vegetables, eggplant, are widely available at farmers markets right now. This is due to the fact that they tend to need longer growing seasons, so August-September are peak times for them.
Second, with the cooler weather starting up, it's easier to use the oven without running up a higher air conditioning bill or heating up the house.
Eggplants can be fried, stir-fried, sauteed, baked, or grilled, but this recipe turns them into a nutritious and tasty version of fries. Breaded but baked, these are lower in fat than fried eggplant.
One other thing, don't shy away from trying eggplants other than the dark purple/black ones. Our local farmers markets offer white, yellow, and striped varieties. The lighter colored ones tend to not have the slight bitterness of some eggplants.
Here's how you can make this tasty side dish that will be a hit with everyone at your table:
Oven eggplant fries

Ingredients
- 2 medium eggplants
- 1 1/2 cups flour
- 1/3-1/2 cup grated Parmesan or Romano cheese
- 1 tsp dried thyme or parsley
- 1 tbsp dried oregano
- 1 tsp garlic powder
- 1 egg, beaten
- 1/2 cup milk (skim is fine)
- salt and pepper to taste
- cooking spray or an oil mister
Steps
- Preheat oven to 375.
- Cut off ends of eggplants.
- Slice into 1/2" strips, lengthwise. You can go thicker or thinner, but keep in mind it will affect cooking time. I find 1/2" to be a good size.
- Mix egg and milk in a bowl.
- Combine dry ingredients in a plate or bowl.
- Grease baking sheet with oil mister or cooking spray.
- Dredge the strips in flour, then dip in egg/milk mixture, then dredge a second time in flour.
- Place on baking sheet.
- Spray or mist strips with oil to lightly coat as much as possible.
- Bake 10-15 minutes a side, until browned on each side and tender.
- Serve hot with a condiment of your choice. I really enjoy these with the hickory ketchup from Garden Secrets at the Boalsburg Farmers Market.
Author: Jamie Oberdick
Bio: Editor, Local Food Journey | Passionate about supporting local food in Central PA