Posted by Jamie Oberdick on 05/03, 2013 at 04:03 PM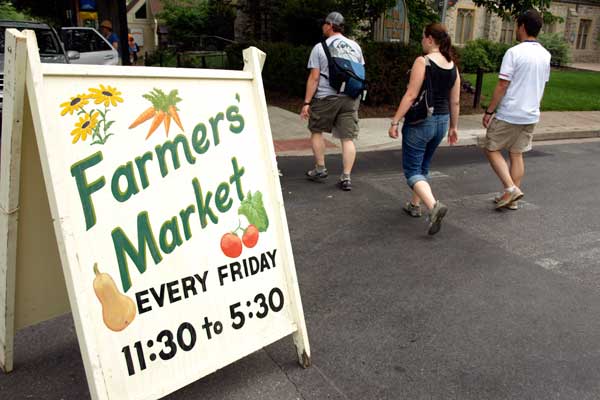 While a few farmer's markets in central PA operate indoors during the cold months, the warmer weather of May means it's time for outdoor farmer's markets. Here's a general guide to what you can expect at an outdoor farmer's market.
First off, why go to farmer's markets when you have plenty of supermarkets? Well, there are several reasons:
- This one's easy - the fresher produce and other products at a farmer's market often taste better.
- You can find varieties of produce, dairy products, baked goods, etc. at a farmer's market that you can't find at a supermarket.
- You can actually talk to the person who made/grew/etc. what you are buying. Have a question about whether a tomato was grown organically or whether a bottled sauce is vegan? Much of the time, the person tending the stand is the person who produced what you are buying.
- It's fun! Farmer's markets are social events, with all sorts of interesting things to see, and that includes the people.
What can one find at a farmer's market? The produce is a no-brainer, of course. There's all sorts of fruits and vegetables to be found, and as mentioned above, including some tasty varieties you won't find anywhere else. There are also baked goods. You can find the incredible bread made by Gemelli's Bakers of State College, or try some always tasty Amish cookies and pies. Fresh meats and dairy products (including goat milk products) are another find, and if you are into growing your own food, you will also find a variety of plants and starts to add to your garden, including some varieties you might not find on a superstore seed rack.
Before you know what you can find at a farmer's market, you of course need to find a farmer's market. If you are new to the area, or are looking for a new farmer's market to try, the Centre County chapter of Pennsylvania Buy Fresh Buy Local (PABFBL) has produced a handy guide for Centre County farmer's markets. It includes where they are, times of operation, start and end dates, and a link to their Facebook page.
Another good source of farmer's market information from PABFBL is via their e-news mailing list (this link gives the sign up - http://buylocalpa.org/centre ) and to become fans of their Facebook page - https://www.facebook.com/BFBLCentreCo.
Farmer's market season is getting underway and you will soon have plenty of choices of markets—please support them and local food.
Author: Jamie Oberdick
Bio: Editor, Local Food Journey | Passionate about supporting local food in Central PA