Posted by Emily Wiley on 07/01, 2010 at 06:48 PM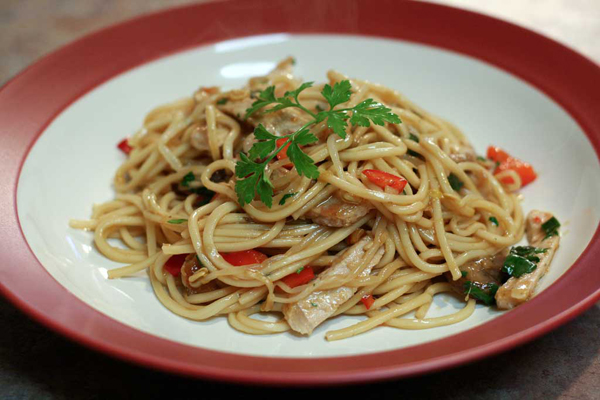 Stir fry recipes are fun and easy to prepare and make good use of summer produce.
A version of this recipe was prepared during an episode of Jamie Oliver's Food Revolution. (Have you watched?) The show, which premiered on primetime television earlier this year, follows world-renowned chef Jamie Oliver on his quest to bring healthier food choices into public schools in West Virginia. (Learn more about this important mission.)
Our stir fry includes peppers (from our garden), mushrooms, onions, and a variety of Asian oils and sauces. You could also substitute carrots, broccoli, green beans, or peas, among other seasonal options. And you can easily make this a vegetarian dish by omitting the pork.
Stir frying happens fast, so I suggest preparing all ingredients before heating the wok.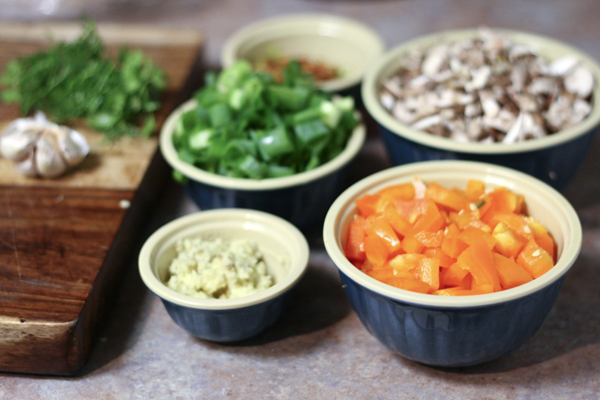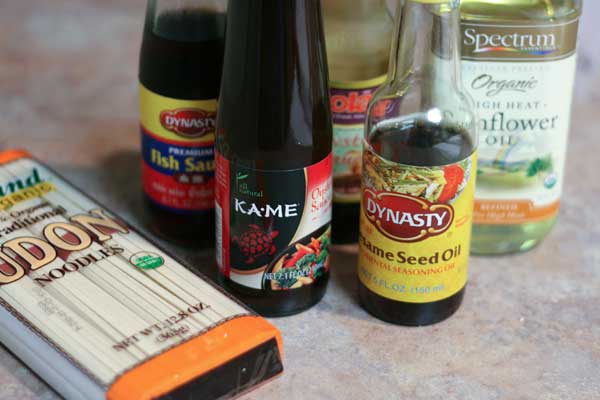 Once you start cooking, the dish comes together quickly. Get ready to drop and stir and toss. And enjoy!
Ingredients
5 boneless pork fillets
freshly crushed peppercorns
2 teaspoons sesame oil
2 tablespoons sunflower oil
2 tablespoons freshly grated ginger
1 jalapeño pepper, seeded and chopped
2 banana peppers, seeded and chopped
1 red pepper, seeded and chopped
1 package of mixed mushrooms (oyster, shitake, portobello), wiped and roughly chopped
1 bunch of spring onions, trimmed and sliced
3 cloves of garlic, peeled and finely chopped
1 1/2 cups bean sprouts
Oriental noodles
2 teaspoons fish sauce
6 tablespoons oyster sauce
1 small bunch of fresh cilantro, chopped
2.5 oz chicken stock
dark soy sauce
Directions
Rub the crushed peppercorns onto the pork fillets. Cook in a frying pan over medium-high heat and set aside.
Cook the Oriental noodles according to the directions on the package.
Meanwhile, heat the wok. Pour the sesame and sunflower oils into the hot wok and fry the ginger, peppers, and mushrooms for a minute until slightly colored. Add spring onions, garlic, and bean sprouts and stir-fry until wilted. Add cooked noodles, fish and oyster sauces, cilantro, and stock. Stir-fry for 2-3 minutes until noodles are steaming hot. Add pork and heat through. Taste and season with soy sauce.
Purchase Jamie Oliver's Food Revolution. Support WPSU
WPSU is now a member of Amazon's Associate program. When you make purchases from Amazon by following links from our website, WPSU will receive a portion of the sale with NO extra cost to you.

Buy Jamie Oliver's Food Revolution.
-or- Click here to support WPSU through any purchase from Amazon.com
Author: Emily Wiley
Bio: WPSU Multimedia Producer | Wife and Mother | Lover of Food and Photography | One-Half of The Culinary Couple