Posted by Jordan Reabold on 03/05, 2014 at 03:45 PM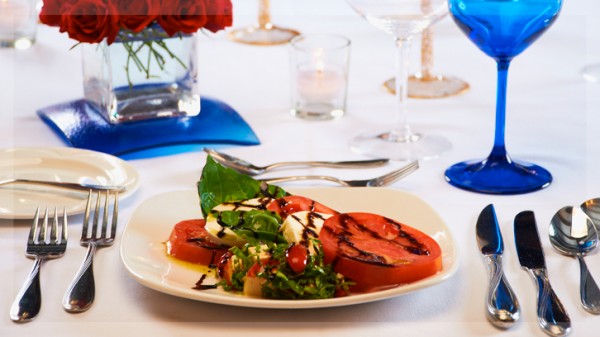 While there are plenty of restaurants in State College that pride themselves in their use of locally-made ingredients, the list continues to grow. Recently, the highly revered Nittany Lion Inn made the switch to use local ingredients in their menu with hopes of supporting other local businesses, expanding their menu, and of course, pleasing the palates of customers.
Andrew Monk, executive chef of the Nittany Lion Inn, explains the process that was necessary in order to begin serving local food. "We had to change the thought process on menus and make a list based on our needs," he said.
Specifically, Andrew addresses the importance in valuing the different needs and preferences of all customers alike, including vegetarians, vegans, and guests visiting the hotel from all over the world. Everyone has their own personal taste, and the restaurant offers an array of options. He stresses, "You want to please their needs, and you have to take as many steps as you can to get there."
The next step, of course, was finding people nearby to supply the food. Andrew is enthusiastic about what he refers to as, "linking up in a positive way" with Friends and Farmers, a co-op that supplies a variety of locally-made foods in a grocery store entirely run by its members. "We're looking to partner with those kinds of initiatives," says Andrew. Although it is difficult to offer certain produce in the cold months of winter, the inn gets a supply of whatever is in season. "There is never 100 percent accessibility, but producers plant certain things for us," notes Andrew.
While the Nittany Lion Inn looks forward to expanding its array of produce with farms such as Greenmoore Gardens, meat seems to have been the main focus in their new and improved menu. Locally-raised lamb, beef, and chicken are now being used by the inn, supplied by Rising Spring Meat Co., who slaughters the entire animal for the restaurant's use. Andrew explains, "To use a whole animal is a different menu approach. The trick is to use the meat quick enough without having to freeze it."
He plans to use the meat as much as possible, even as far as using scraps to grind into hot dogs. "We'd also like to serve our own fresh deli meats because now, there's no high sodium or preservatives," Andrew explained
According to Andrew, the importance of switching to local food is health, and the things that grow in the winter are the things we should be eating in the winter. He states, "Based on the season, you need certain vitamins. I'm not going to put a tomato on your sandwich just because I assume you want a tomato. It's about staying in tune with your environment."
That being said, Andrew also stresses the fact that local food ensures a sense of trust. "With food that isn't local, you can't trace it anywhere," he said. "Was it made in a sanitary practice? What were the animals fed?"
By receiving a supply of produce and meat from local farms, you are not kept in the dark about anything. As Andrew puts it, "You can point to exactly where it came from."
Andrew notes that the Nittany Lion Inn plans to incorporate local food not only into their restaurant menu, but to the bar and banquet menus as well. The increase is significant, and the inn has shown a great start already. "We hope for a rise from 5 percent local to about 40 percent local," Andrew said.
Basically, it's about the people. With confidence, Andrew says, "We let customers make judgments so that we can say, 'this is what consumers are interested in.'"
It's no wonder the Nittany Lion Inn has received such a positive reaction to the switch to local ingredients. Money is being kept local, and the inn is supporting other businesses with similar interests. To put it simply, "It's about growth, health, and sustainability," states Andrew.
While the Nittany Lion Inn has made great progress thus far, they have plans for years to come, giving customers something new with every visit.
Author: Jordan Reabold
Bio: Tamaqua, Pennsylvania native - English major at Penn State - Loves cupcakes, coffee, and campfires"