Posted by Michele Frank on 09/14, 2010 at 12:55 PM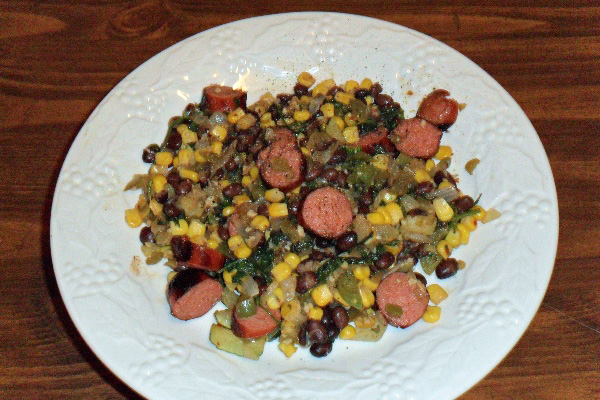 Some folks are intimidated by okra, most likely due to its foreign origin and slimy texture. Before creating this recipe, I had only eaten fried okra, and, admittedly, it was not on the top of my list to eat again. But I wanted to give the vegetable a second chance.
Okra is a component in many regional meals—from Nigerian soup to Gulf Coast gumbo—and it can be found at local farmers markets in early fall. My goal was to use the ingredient in a way that pleased my palette. The result was a blend of vegetables, enhanced by a spicy andouille sausage. Give it a try; it's a perfect dish for early fall!
Ingredients
1 tablespoon extra-virgin olive oil
1 cup okra, diced with seeds included
1 green bell pepper, diced
1 cup zucchini, roughly chopped
1 medium yellow onion, diced
1 heaping tablespoon minced garlic
1 - 15.5 oz can sweet yellow corn kernels
1 - 15.5 oz can black beans, well rinsed
1/4 cup cilantro, coarsely chopped
1 teaspoon roasted red pepper flakes
1 teaspoon Old Bay seasoning
4 andouille sausages, fully cooked and sliced
Salt and pepper to taste
Directions
In a large skillet over medium heat, combine and cook all ingredients through cilantro for 10 minutes.
Meanwhile, in a separate skillet, cook the andouille sausages until the outsides are slightly blackened. Remove from heat and let cool.
Add the cilantro, roasted red pepper flakes, and Old Bay to the vegetable mixture. Mix well and cook for another 5 minutes.
Slice the cooled sausages and add to the finished vegetable hash. Serve hot with salt and pepper to taste.
Author: Michele Frank
Bio: Michele is a senior at Penn State majoring in print journalism. She loves to cook for her friends and family, and wishes to make a career out of her hobby. She spent last summer working for Gulfshore Life Magazine in Naples, Fla.