Posted by Jamie Oberdick on 09/23, 2014 at 11:28 AM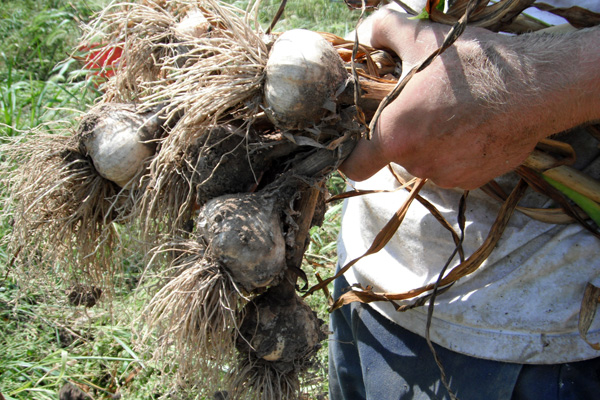 While you can plant garlic in the very early spring, between now and late October is the best time to get your garlic bulbs in the ground. By planting garlic now, you can get bigger, better quality bulbs next summer.
There are several basic types of garlic:
- Softneck: This variety of garlic generally does not produce scapes, those delicious edible flower stalks, but is great for braiding. You have to be cautious when selecting a variety with softneck types as not all varieties can handle our cold climate.
- Hardneck: These do produce scapes, and generally handle our cold climate well. One of my favorite types of garlic, the purple stripe variety, is a hardneck garlic.
- Elephant: This variety of garlic is related to leeks, and is famous for its large, mild cloves. Does need a mulch to make it through the winter.
Getting started
Loosen your soil down to about a foot or so, setting up your bed in a sunny location. Add an inch of compost to your bed and mix it in thoroughly. If you have acidic soil it helps to add a layer of wood ash and mix that in as well.
Planting
Break garlic head into individual cloves. Plant each clove into four-inch deep hole. Space about 4-6 inches apart.
Finishing prep
Cover the bed with around 5-6 inches of organic mulch. Your autumn leaves are a perfect source, but you can also use hay.
Author: Jamie Oberdick
Bio: Editor, Local Food Journey | Passionate about supporting local food in Central PA