Posted by Jamie Oberdick on 04/05, 2013 at 04:19 PM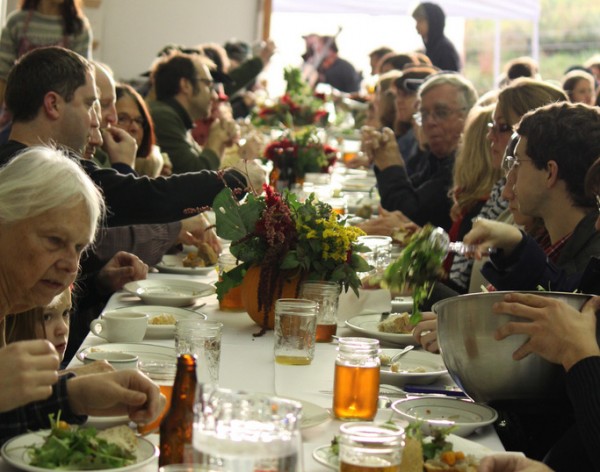 Some good news to report for those looking for more local food sources. Friends & Farmers, a food cooperative in State College committed to showcasing the best local products in support of a strong local economy, has taken several important steps toward opening a member-owned community grocery store that is open to the public, seven days a week.

Thanks to an assist from the Rural Economic Development Clinic (REDC) at the Penn State Dickinson School of Law, they've incorporated as a subchapter T Cooperative. At their board meeting on March 20, Friends & Farmers signed its bylaws, formed a board, and elected officers.
The members of the board include Sarah Potter, president; Maureen Ittig, treasurer; Carolyne Meehan, secretary; Elizabeth Crisfield; Dave Cranage; Jim Eisenstein; Christine Least; Michele Marchetti; Mark Maloney; and Michael Rybacki. Friends & Farmers are member-owned and strive for transparency in every aspect of their operation.
To celebrate their incorporation, Friends & Farmers are holding a potluck on April 16 from 6:00 to 8:00 p.m. at the State College Borough Building. At this event, people can hear about Friends & Farmers' progress, share local food, buy some Friends & Farmers merchandise, and children can enjoy a kids' activity. Thanks to several local farms that are donating partial shares or "subscriptions" to their Community Supported Agriculture (CSA) programs, they're also holding a silent auction that will showcase our area's bounty.
To date, participating farms include:
· Jade Family Farm is donating $100 for an a la carte share with a minimum bid of $70.
· Tait Farm Foods is donating a 1-month CSA share (creditable toward a full season share or stand-alone)
· Greenmoore Gardens is donating a 1-month CSA share (creditable toward a full season share or stand-alone)
· Village Acres is donating a 1-month CSA share (creditable toward a full season share or stand-alone)
To attend, community members can RSVP here: http://tinyurl.com/FFpotluckRSVP. Due to the room's capacity, they must limit RSVP's to 100 people. Please check the total RSVP tally before adding your name.
In other news with the organization, Friends & Farmers have launched a website, designed by local web design firm Concepcion Design. Please check out their new, snappy-looking site for a primer on how their co-op works and ways to stay in touch to help build a local food community. Visitors can also make a donation or order one of their popular t-shirts. They'll be adding a blog with member profiles, recipes and more.
They are also doing a survey. The survey will ask community members about their shopping habits and opinions regarding bringing a cooperative food market to State College (we at Local Food Journey are excited about the idea, for what it's worth). The survey is part of a feasibility study currently underway through the Keystone Development Center, which is offering its services free of charge thanks to a grant supporting cooperatives that benefit rural communities. The survey will glean important details that will direct our next steps. Community members can take the brief survey here.
Friends & Farmers believes it can transform the community with food. "Food has the ability to effect change in many ways: it builds the local economy, strengthens our communities, improves our health, and gives us pleasure," Sarah Potter, president of the Friends & Farmers, said.
Author: Jamie Oberdick
Bio: Editor, Local Food Journey | Passionate about supporting local food in Central PA