Posted by Emily Wiley on 04/04, 2012 at 06:29 PM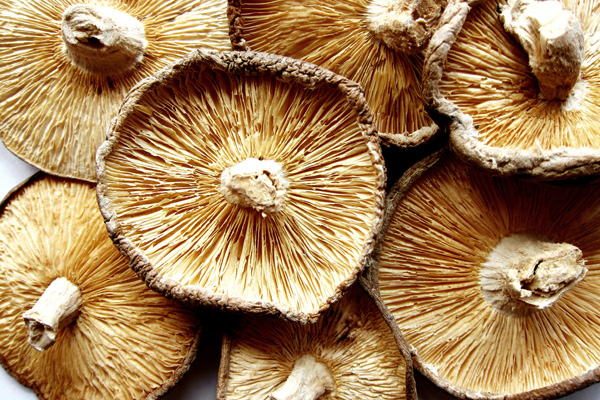 Did you know that Pennsylvania is home to the mushroom capital of the world? (It's in Kennett Square, near Philadelphia.) And there are plenty of foragers in the central part of our state, as well. So let's celebrate mushrooms this month!
Tell us—do you like cremini, portobello, shiitake, chanterelles, or the very exotic truffles? Do you eat them raw or sauteed or roasted? Share your favorite recipe with the Local Food Journey by May 1st for a chance to win a $25 gift certificate to Fasta Ravioli Company. Find details and submit your recipe today.
Continue reading for Chef Harrison Schailey's Shiitake Mushroom Bisque, which he serves at Harrison's Wine Grill in State College.
Shiitake mushrooms, native to Japan and China, are known for their health beneficial properties and are a great source of B vitamins, manganese, phosphorus, potassium, selenium, copper and zinc, dietary fiber, vitamin D and phyto-nutrients. These meaty mushrooms add flavor, nutrition, and texture to this palate-pleasing soup.
Shiitake Mushroom Bisque
From Chef Harrison Schailey
Ingredients
2 lbs Shiitake mushrooms, cleaned and sliced
1 small onion, diced
3 Tbsp butter
2 garlic cloves, minced
2 Tbsp flour
3 cups vegetable stock
1 cup Meyer Dairy heavy cream
4 Tbsp Marsala wine
Directions
In a pot set over medium heat, sauté mushrooms and onion in butter until onion is translucent and any liquid from mushrooms has evaporated. Add garlic and sauté for one minute. Stir flour into mushroom mixture to make a roux which will thicken the soup. Add vegetable stock to the pot. Simmer for 15 minutes, stirring occasionally to prevent sticking. Add heavy cream and Marsala wine. Simmer for 15 additional minutes, stirring occasionally. Add salt and pepper to taste.
Author: Emily Wiley
Bio: WPSU Multimedia Producer | Wife and Mother | Lover of Food and Photography | One-Half of The Culinary Couple