Posted by Emily Wiley on 12/10, 2010 at 04:16 PM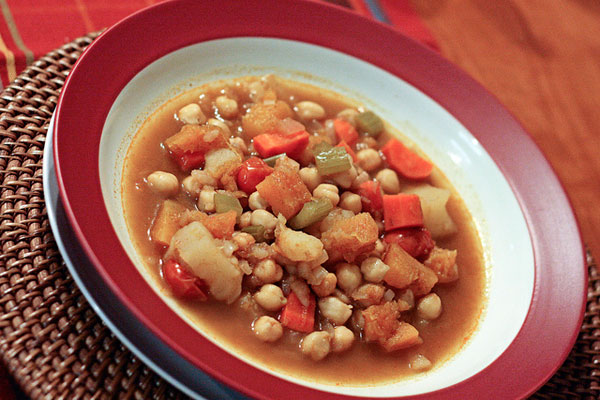 Warm up this wintry weekend with a bowl of spicy Moroccan vegetable stew. It combines seasonal root vegetables with cinnamon, cumin, and paprika and a splash of sweet coconut milk at the end. The list of ingredients may seem long, but this soup couldn't be simpler or more satisfying.
Ingredients
1 medium onion, chopped
1 tablespoon olive oil
1 small butternut squash, chopped (about 1 1/2 cups worth)
1 medium potato, peeled and chopped
3/4 cup chopped carrots
1/2 cup chopped celery
3 plum tomatoes, chopped
1 can garbanzo beans
2 teaspoons cinnamon
1 teaspoon cumin
1 teaspoon smoked paprika
1/2 teaspoon ground coriander
pinch of cayenne pepper
1 1/2 cups vegetable broth
2 cups water
salt and pepper to taste
coconut milk to taste
Directions
Heat olive oil over medium heat in a Dutch oven or large stock pot. Add onions and sauté until soft. Add spices and cook for another minute.
Stir in squash, potatoes, carrots, celery, tomatoes, broth, and water. Bring to a boil, then reduce heat and simmer for 20-25 minutes.
Add garbanzo beans and bring back to a boil. Reduce to a simmer and cook for 10-15 minutes.
Add salt and pepper to taste. Ladle into bowls and add about 2 tablespoons coconut milk to each.
(adapted from Taste of Home)
Author: Emily Wiley
Bio: WPSU Multimedia Producer | Wife and Mother | Lover of Food and Photography | One-Half of The Culinary Couple