Posted by Jamie Oberdick on 07/03, 2013 at 12:06 PM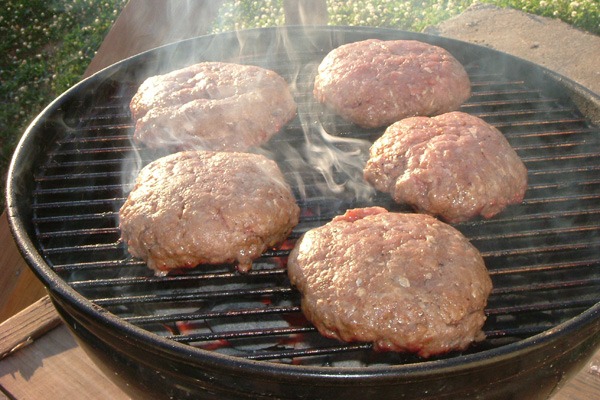 This is part two of a two-part post on local food Fourth recipes that you can serve friends and family at Independence Day gatherings. You can see the other recipes in the post right below this one. As an added bonus, today we've added some summer cocktail recipes as well.
A versatile burger
First off, we have a recipe for that staple of July 4th cookouts, the burger. Shellie Mierwald of Sweet Heat Gourmet, maker of fantastic sauces of all kinds with local ingredients, has a recipe for a delicious burger that can also be done vegetarian-style.
"This recipe is very versatile. You can pick and choose whatever local ingredients you like to fit your tastes. If you're a vegetarian, you can use a portabello mushroom cap in place of the burger. For salmon burgers, place salmon in food processor, add BBQ sauce and blend. You could also use a fleshy fish, steak sliced thin, chicken, etc. Tweak the recipe to your liking.
Bulgogi Asian BBQ Cheese Burgers with Spicy Mayonnaise
1 lb local ground beef (Rising Spring)
1/2 cup Sweet Heat Gourmet Bulgogi Asian BBQ Sauce
8 oz local cheese, sliced
1 fresh pineapple, sliced thin
1 loaf Ciabatta bread from Gemelli, sliced (any bread would work)
2 local bok choy (Clan Stewart, Jade, Greenmore, Ardry, etc)
2 small local red onions
1 head of local lettuce
1 local tomato
Spicy Mayonnaise
1/2 cup of mayonnaise
1 TBS Sweet Heat Gourmet Pinapple & Ghost Pepper Hot Sauce
Directions:
Slice bok choy and red onions thinly. Sweat in small frying pan until limp. Set aside.
Combine burger with Sweet Heat BBQ Sauce. Place combined burger in fridge, let sit for at least one hour. Form into four burger patties. Grill to done likeness, basting with BBQ Sauce. Top with sliced cheese until melted. Let burgers rest for five minutes. While burgers are resting, grill pineapple slices until golden brown. Toast bread slices lightly.
Combine mayonnaise and Sweet Heat hot sauce. Spread on toasted bread slices. Place burger on half, and pineapple slice on top. Top with sweated bok choy and onions. Top with lettuce and tomato.
Enjoy!"
Gluten-free flavors for the Fourth
Emily Reddy, producer with WPSU and contributor to Local Food Journey, has a favorite recipe from the classic culinary magazine Bon Appetit that would be a great way to include farmers market or garden bounty in a July 4th recipe. Plus, it is gluten-free.
"I've been making this dish a lot. It's a good supplement to a barbecue because it works as a main dish for vegetarians or those who are gluten intolerant and as a side dish for everyone else. And it's a good way to use all the squash that are starting to pop up in my CSA share. http://www.bonappetit.com/recipes/quick-recipes/2012/08/summer-squash-and-red-quinoa-salad-with-walnuts
I use regular quinoa."
Classic and French and Easy
The next recipe is simple and something you can make quickly. It comes to us from Nate Bruny, executive sous chef de cuisine at Zola New World Bistro. Not only is it easy, but it's also French, so you can show off by telling people that.
"Classic French salad (serves 2)
½ lb of carrots with tops
¼ c of chopped parsley
Dressing
2 T lemon juice
1 t paprika
1 t dijon mustard
3 T evoo
1 pinch of sugar
Salt and paper to taste
1. Peel carrots and clean the carrot tops for later use in salad, on a box grater or mandolin grate the carrot into thin strips.
2. In a second bowl combine dressing and chopped parsley to make simple vinaigrette.
3. Toss the carrot and dressing together let marinade for at least 10 minutes before serving, garnish with carrot tops."
Have a drink
Can't just have food at a Fourth party, right? There must also be some beverages. Recently Sc'Eric Horner and Chris Young (master cocktailians from the Fuji & Jade Garden restaurant) gave a demonstration on making cocktails with some local ingredients at the Boalsburg Farmers Market. We'll end our Fourth recipe series with three of their recipes (any of these can be made kid-friendly by not including alcohol, one would think):
"Bee Berry" Daiquiri [serves 1]
(Suggested glassware: Old-fashioned glass)
~ 1.5-oz 10 Cane rum (or your preferred brand of white rum)
~ 1.0-oz Bee Kind Winery's "Bee Berry Red" (raspberry)
-or- Bee Kind "Bee Berry Black" (blackberry)
~ Juice one-half lime (about 0.75-oz, or to taste)
~ Juice lemon slice
~ 0.5-oz simple syrup (or to taste)
Shake. Strain over hand-cracked—or crushed—ice.
~ Garnish w/ lime wheel and/or fresh berries.
(This recipe is a twist on the classic rum daiquiri. Here, we use local fruit-wine and simple syrup in place of the usual orange liqueur.)
The Dandy Shandy (feat. Elk Creek Double Rainbow IPA) [serves 1]
(Suggested glassware: 16-oz glass or Mason Jar)
~ Half lemon, muddled
~ Slice orange, muddled (or substitute equivalent portion of Ruby Red grapefruit)
~ 0.75-oz St. Germain elderflower liqueur (or substitute Domaine de Canton ginger liqueur… and/or simple syrup, to taste)
~ 1.0-oz Bulleit rye whiskey
Shake w/ ice. (Do not strain.)
~ Top w/ Elk Creek "Double Rainbow IPA"
(This recipe was inspired by a classic rye cocktail from the 1930s, simply called the Dandy Cocktail.)
Double Basil Fizz #2 [serves 4]
(Suggested glassware: 16-oz glass)
~ Pint Strawberries, quartered
~ 2+ Tbsp Sugar
Quarter strawberries. Add sugar and let them sit on the counter over night, so that they form a syrup.
Refrigerate in the morning. (When preparing the cocktail, you will use both the berries and the syrup.)
Divide the sugared strawberries and syrup, evenly between four glasses (16-oz).
Fill with hand-cracked ice. Set aside.
To a cocktail shaker or mason jar add the following:
~ 4.0 Egg-whites, fresh (or pasteurized, if preferred)
~ 1.5-oz Tait Farm Strawberry shrub
~ 1-tsp Celery-Salt (or Celery seed + Salt)
Dry-shake (no ice) to combine. [Note: if your shaking capacity is less than 16-oz, consider splitting the ingredients between two shakers. Egg-whites will expand when shaken.]
Then, to the shaker add:
~ 8.0-oz Bourbon (Basil Hayden, or your preferred brand)
~ 6.0-oz Basil-infused vodka (Sweet +Thai +Holy basil)
Shake again with one or two cubes of ice.
Pour contents of shaker over the hand-cracked ice and sugared strawberries.
Top w/ Fever Tree brand Bitter Lemon (or substitute Club Soda).
Garnish w/ fresh basil, fresh-cracked peppercorn and a straw.
(This recipe was created by Chris Young, server and bartender at Fuji & Jade Garden Asian restaurant in State College.)
Author: Jamie Oberdick
Bio: Editor, Local Food Journey | Passionate about supporting local food in Central PA