Posted by Linda Weaver on 03/15, 2012 at 12:30 PM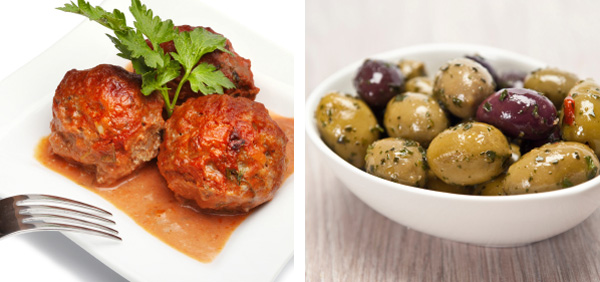 As part of the celebration of our local wine trail, Mount Nittany Winery is offering special wine and food pairings during the month of March. This weekend we will feature local food products including cheese from Clover Creek Cheese Cellar, gourmet crackers from Rip Rap Bakery, and Cooke Tavern potato soup in honor of St. Patrick's day!
Purchase your "Ticket to Good Taste and Adventure" at one of the ten participating wineries. Cost is $20 each or two for $35. For more information, visit: www.pawinetrail.com.
Continue reading to see recipes for the Mediterranean dishes that we served during last weekend's pairings.
Last weekend we enjoyed a Mediterranean theme with Spanish Meatballs and Spanish-Marinated Olives. Enjoy the recipes!
Spanish Meatballs
1 pkg. frozen meatballs
1 can tomato soup
1 can crushed tomatoes
1 can beef broth
1 can sliced black olives
3 chopped green peppers
1 tsp chili powder
1 cup Nittany Mountain Red wine
Mix everything together in a crock pot and cook on low for 4-6 hours.
Spanish-Marinated Olives
1 lb assorted imported olives
8 cloves garlic, sliced
zest of ½ orange, cut into ½-inch julienne
zest of ½ lemon, cut into ½-inch julienne
1 Tbsp fresh rosemary
3 Tbsp fresh lemon juice
½ tsp red pepper flakes
4 Tbsp olive oil
Combine all ingredients in a large bowl and marinate at room temperature for at least 24 hours. Serve with Tailgate Red wine.
Author: Linda Weaver
Bio: Marketing & Media Coordinator for Mount Nittany Vineyard & Winery / Mother of Three Boys / Penn State & UVA Grad / Lover of Cooking, Wine, and the Great Outdoors