Posted by Emily Wiley on 12/03, 2010 at 06:20 PM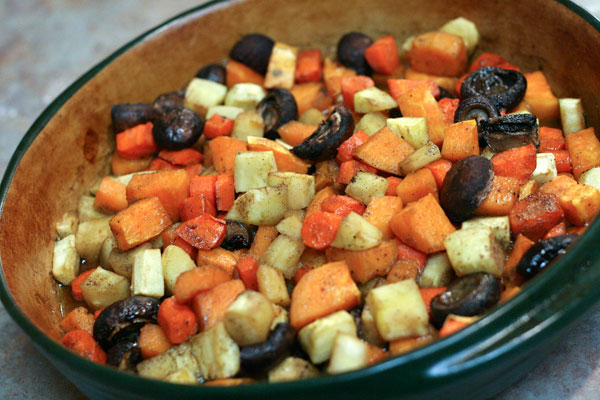 Ingredients
2 Tbsp butter
6 Tbsp maple syrup
2 Tbsp extra-virgin olive oil
2 Tbsp chopped sage
1 bunch turnips
1 package mushrooms
2 carrots
2 parsnips
1 sweet potato
salt and pepper
Directions
Preheat oven to 400°F.
Peel vegetables and cut into bite-size pieces, toss with 1 Tbsp olive oil and salt and pepper. Roast for 15-20 minutes.
Meanwhile, over low heat melt butter and syrup, 1 Tbsp olive oil, and sage.
Remove veggies from oven and pour syrup mixture on top. Return to oven for 15-20 minutes, or until syrup is bubbly and vegetables are tender.
(adapted from Sunday Suppers)
Author: Emily Wiley
Bio: WPSU Multimedia Producer | Wife and Mother | Lover of Food and Photography | One-Half of The Culinary Couple