Posted by Local Food Journey on 10/16, 2014 at 10:59 AM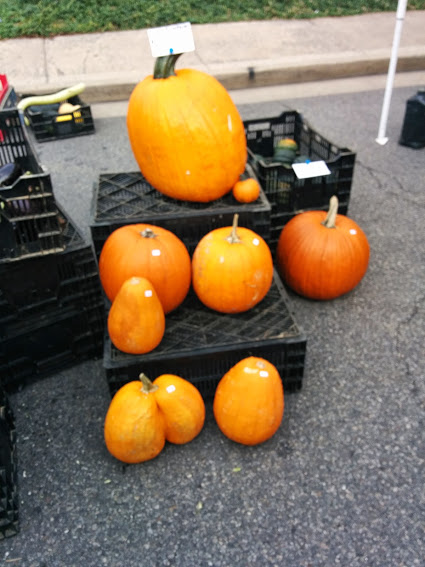 Fall is officially upon us. The leaves are changing from a verdant green to the many warm shades of red and orange; temperatures are dropping steadily; and, perhaps most importantly, the Downtown State College Farmer's Market, which is held every Tuesday and Friday afternoon from 11:30 a.m. to 5:30 p.m. on the corner of Locust Lane and College Avenue, has revealed their many seasonal offerings. Those who are fond of decorating in the autumnal and Halloween-esque styles—and even those who just like a good squash—will be delighted to see what Locust Lane has in store on Tuesday and Friday afternoons in October.
First and foremost: pumpkins. Pumpkins of every size and shape imaginable. They grace the many stands of the farmer's market, ranging in variety from those little decorative pumpkins that you can use as centerpieces for your dining room table and upon which you can draw smiley faces with permanent marker, to the enormous pumpkins that you can hardly lift and into which you can carve sneering, snaggled-toothed grimaces. One of the latter is actually labeled, in all caps, "HUGE PUMPKIN." Comically, it dwarfs the mini pumpkin next to it.
I asked Madeline Moser, of Moser's Garden Produce, if the "huge" kind takes longer to grow than the mini variety. "Oh, yes," she told me, "They take anywhere from 60 to 90 days to grow."
Two to three months, I think to myself in awe. Madeline explains to me some of the difficulties in growing these larger pumpkins, including knowing when to "turn" them (I assume, since pumpkins grow on their side, this is done to prevent the pumpkin from flattening out). This is hard to determine, she tells me; some of the pumpkins I see at the market look slightly flattened on one side and now I know why that is.
Another thing Madeline tells me that I find interesting is that most of the fall items that she sells are edible, including the big pumpkins. I didn't realize most pumpkins could be eaten; it hits me that I've never considered eating a pumpkin. "Everything is edible except the gourds," she continues. The gourds are just for show, which is fitting since they would make a nice addition to the mini pumpkin centerpiece. Many are similarly shaped to these mini pumpkins, but are flecked with green and other earthy tones, like the ones seen in the upper right hand corner below.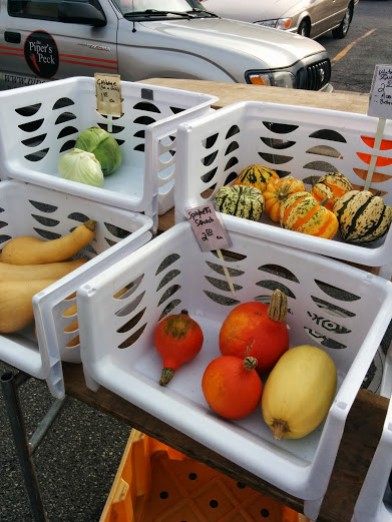 Also in this picture can be seen spaghetti squash (below the gourds), which I learn not from the farmer's market but from my roommate that you can cut in half, scoop out the middle, and cook and eat like spaghetti. That is, after you add a generous helping of cheese and butter. Abundant crate-fulls of this squash line the two sides of the market.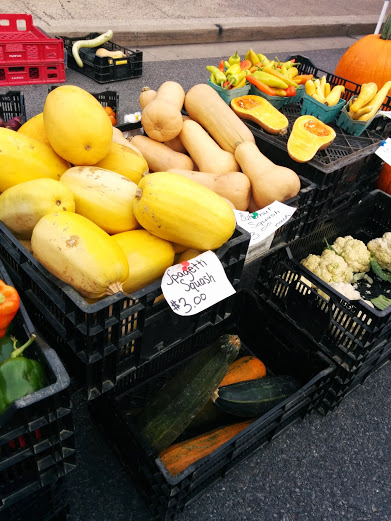 Of course, to follow your dinner of spaghetti squash, you'll need a sweet treat. And there is no shortage of sweets at the farmer's market. I can hardly list all of them: pies (not only pumpkin, but others like apple and, my personal favorite, shoo-fly), whoopie pies (or gobs, for Pittsburgh natives), doughnuts, jams, breads and sweet butters, and so many glorious others. One stand in particular catches my eye due to its enormous spread, and I snapped a picture of it (look for this table next time you attend; if you love sweets, you won't be disappointed).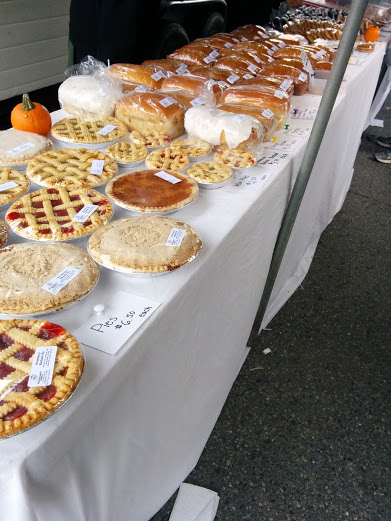 I've saved one of the best for last: pumpkins on a stick. Yes, you read that correctly. These pumpkins grow on a thorny wooden vine; they are cut into shorter branches and offered for sale at the farmer's market. I learn from a vendor, however, that these tiny little growths are actually not pumpkins. "They're a type of eggplant," I was told. What! Why aren't they called "eggplants on a stick"? Oh, well; they look like pumpkins, and if I hadn't been on my way to get a haircut last Friday, I would have picked one up, despite the apparent misnomer.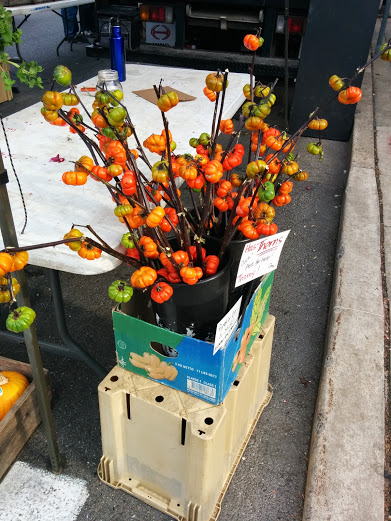 All in all, there is a wonderful selection of fall-themed items available for purchase at the downtown farmer's market, not just for your kitchen but for your doorstep and your dining room table too. And maybe even to show to your hairdresser and everyone else in the salon. I'm kidding, but make no mistake—I'll be back to pick up those "pumpkins" on a stick this week.
Anna Lombardo is a suburban Philadelphian, English major at Penn State, and avid learner, runner, and eater.
Author: Local Food Journey
Bio: An exploration of what it means to eat local