Posted by Anna Lombardo on 12/16, 2014 at 04:20 PM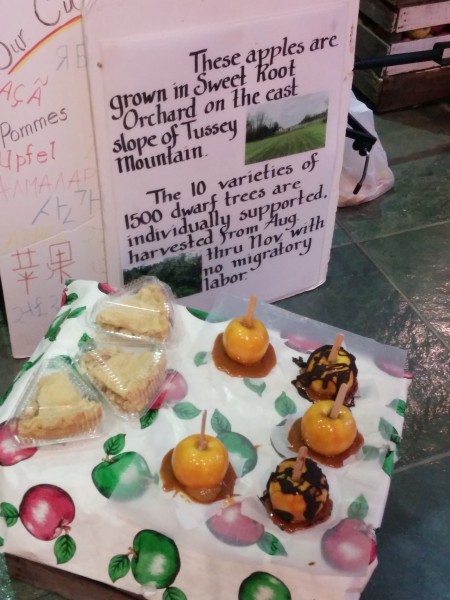 When I opened the doors to the State College Municipal Building last Friday, it was a cold, clammy day. I hadn't seen the sun in what felt like weeks. And yet, as I entered the building and made my first trip to the State College Winter Farmers' Market, I felt that familiar coziness (perhaps a mixture of good food, electric heat, and pre-holiday cheer?) come over me. It was the indoor market's first gathering of the season.
One of the first vendors I approached gave me a warm welcome and immediately asked me to sample one of his cheeses, of which he had a large variety. As I was munching away on one of the milder cheeses (which, at his suggestion, I had dipped in a fruity spread), he informed me that he would only be at the market for a few weeks, mainly to sell gift baskets of his homemade cheese and fudge. I tried some peanut butter fudge before I left, and also some more cheese (a spicy kind this time). If you're looking for a sweet or savory gift to give, consider looking for his table when you stop by!
Heading over towards the water fountain to fill my water bottle up (the last cheese I tried left my mouth on fire!), I came across what appeared to be a nice assortment of scented candles and lotions. Lesson learned: appearances can be deceiving. While the spread of Nittany Valley Organics' various waxes did offer a great number of choices of their products (for which they advertised "Free Sniffing," according to a nearby sign), it wasn't your normal Bath and Body Works-esque spread. The table held everything from wax melts (in crazily wonderful flavors like Kringleberry, Asian Pear & Lily, and Love Spell) to moisturizing bars that began to melt as soon as they touched your skin to a candle where you could dip your fingers into the melted wax, which you could then use to moisturize your hands. "But," the representative from Nittany Valley Organics wisely advised me, "watch out for the flame."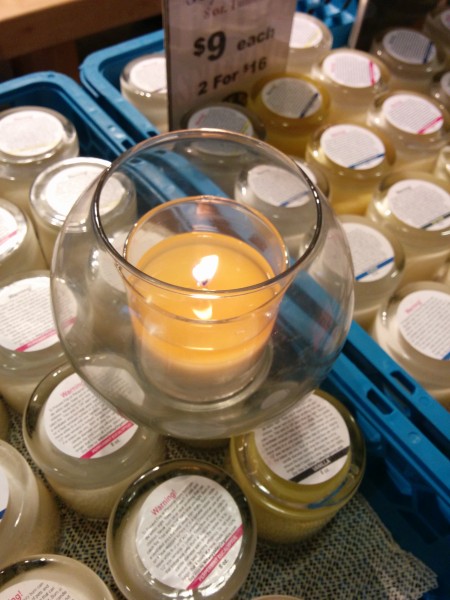 Nittany Valley Organics also offers another interesting selection of what they call Manly Man Candles. Yes, that's right: these candles have specifically "manly" scents, including beer, bacon, sawdust, and even cannabis. The smells are shockingly accurate, and my friend behind the counter described the process for making these candles. "We work with a perfumer, and we have to describe the fragrance to him in words," he said. "We had to try 15 different samples before we got Beer right."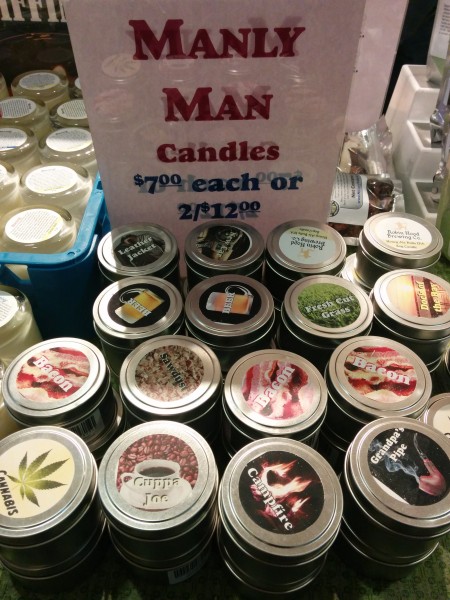 Having had my fill of smells for the day, and feeling a little lightheaded, I started a slow circle of the remaining tables. I recognized the vendor who sells wild Alaska salmon in the fall, and he even had his faithful canine companion with him. I recognized another vendor who makes her own potato chips, and this time was also selling jars of honey and syrup, among other products. And, of course, no farmers' market would be complete without an assortment of fresh fruits and vegetables. Tables were filled with winter vegetables that would make a gorgeous hot stew, including carrots, sweet potatoes, turnips, and candy onions. Apples were also plentiful, and one vendor decided to get creative with caramel and pie crusts to sell hers.
To top off my first visit to the market, I ended up at a small corner of the room that I hadn't noticed before. There stood a stand run by a woman named Flavia Barger, who asked me if I'd like to try some authentic Brazilian food. I gave a hasty "Absolutely" and glanced over the "Brazilian Munchies" (the name of Flavia's business). There were several servings of Pão de Queijo, or cheese bread, as well as some sweets in plastic Ziplocs. I inquired about the latter, and Flavia told me it was a fudge-like candy. She bundled a sample of three different fudges for me, and while doing so shared her story with me. "I came to the United States about a year ago after I married my husband," she said. "I'm afraid my English isn't too good."
But I reassured her that her English was wonderful and, after a friendly thank-you and warm goodbye, I was on my way out to Allen Street once again. I popped one of the candies into my mouth, and it was scrumptious. If you get a chance, stop by her booth—and the other ones there too!—before the indoor market wraps up in April. Both fortunately and unfortunately, you still have plenty of time to do so.
Author: Anna Lombardo
Bio: Suburban Philadelphian English major at Penn State Avid learner, runner, and eater