Posted by Jamie Oberdick on 05/06, 2013 at 06:14 PM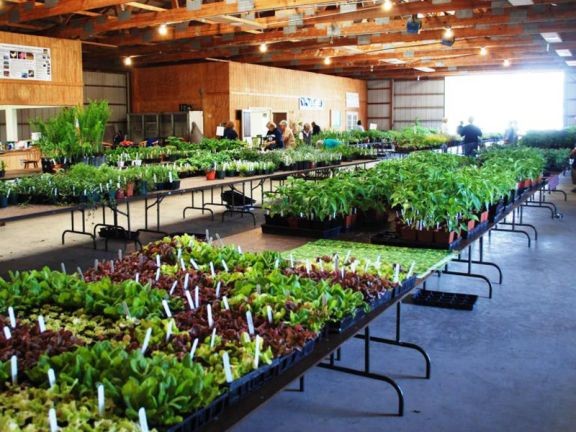 Plant sales are a fairly common sight in and around Happy Valley in May. They are a boon for gardeners who want to find unusual or native plants to add to their garden. They are also a good way to keep your garden a more "pure" source of local food, since instead of buying plants that were shipped to a big box store, you buy plants from a local vendor or organization.
There are all sorts of plants to be found at these sales. Many of them, like the Penn State Extension Garden Fair, focus on native plants. There are flowering and ornamental annuals and perennials to be found, but there are also plants that you can add to your dinner table. Berry bushes, various herbs, unusual tomatoes, hot peppers, and more give the gardener a lot of choices. In fact, I personally often find myself overbuying and struggling to fit something into my garden that I couldn't pass up at a plant sale.
Here are four examples of great plant sales in the area - three in Centre County and one in nearby Blair County:
- The afore-mentioned Penn State Extension Centre County Master Gardener's Garden Fair and Plant Sale May 18 from 9:00 a.m. to 3:00 p.m. at the Ag Progress Days Site: This event is more than a plant sale. Along with more than 6,000 plants to choose from, there will be food, vendors, demonstrations, exhibits, talks on gardening, and more. Got any questions about gardening? Master Gardeners will be on hand to answer your questions.
- On May 11 and 12 from 9:00 a.m. to 3:00 p.m., the Arboretum at Penn State will hold their plant sale featuring a variety of trees, shrubs, and perennials ideal for growing in this area. Among the selections include pawpaws, a tree with a banana-like fruit that is loaded with nutrition and quite delicious.
- At the beautiful Centre Furnace Mansion, a "Plant Celebration and Garden Sale" will be held May 11 starting at 9:00 a.m. Along with heirloom bulbs and other plants, a variety of tasty herbs will be sold. Along with buying some plants, explore the gardens on the mansion grounds and become inspired!
- Down in Hollidaysburg in Blair County near Altoona, the Discovery Garden in Legion Memorial Park is a hidden gem. On May 18, the Discovery Garden Plant Sale will be held, featuring a variety of annuals, perennials, and herbs. Combined with the adjoining Kids' Kingdom Play Park, a trip to this sale would make for a nice family outing.
Author: Jamie Oberdick
Bio: Editor, Local Food Journey | Passionate about supporting local food in Central PA