Posted by James Eisenstein on 07/31, 2012 at 05:43 PM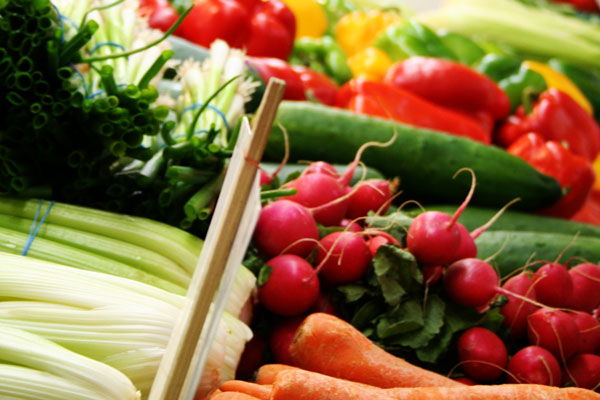 Customers at our many fine local restaurants place their orders and waiters magically produce delicious food, but most know little about what happens in the kitchen or who is preparing the dishes. Likewise, the chefs working in the kitchen rarely have a chance to meet their guests beyond an occasionally brief hello.
August 4th through 7th is Local Foods Week in Centre County, an appropriate time for restaurant goers and chefs to get acquainted. On Tuesday, August 7th, the Boalsburg Farmers Market is sponsoring an event that provides an excellent opportunity to do so.
Chefs from at seven local establishments will compete for the Market's Golden Basket Award, using fresh ingredients from market vendors and preparing it right at the market in front of our guests. This will be the largest gathering ever of local chefs preparing dishes in public in the State College area. Each chef will present a plate featuring a main dish and two sides to a panel of five judges, and many will offer samples of their work for the public to taste.
Participating chefs include: Jamie Steffen (American Alehouse), Zach Lorber (Foxdale), Harrison Schailey (Harrison's), Andrew Monk (Nittany Lion Inn), Pete Herncane (Otto's), Craig Hamilton (Village at Penn State), Nate Brungart (Zola's), and one of Dante's Restaurants chefs.
Judges include State College Mayor Elizabeth Goreham; WPSU's Patty Satalia; Peter Bordi, director of Penn State's Center for Food Innovation; local food writer Michele Marchetti; and Kevin Kassab, director of State College's Department of Health. The judges will select this year's winner of the Golden Basket Award.
The event will take place from 2:00 to 4:00 pm at the regular Tuesday, August 7th Boalsburg Farmers Market at the Pennsylvania Military Museum, Business Route 322, Boalsburg. There is ample, convenient free parking for the event at the market.
See a recap of last year's event.
Author: James Eisenstein
Bio: Unpaid Field Hand at Jade Family Farm | Former Penn State Professor