Posted by Jamie Oberdick on 01/13, 2016 at 02:28 PM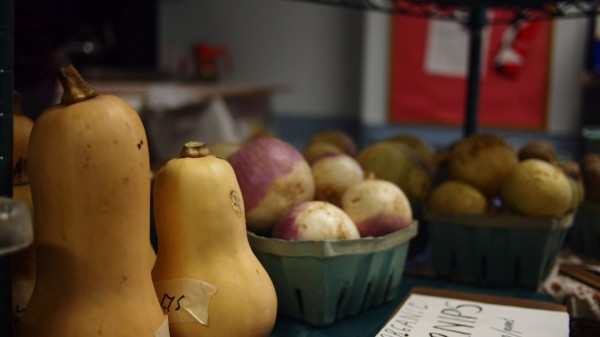 Well, winter just reminded us this week who's boss, as we had our first snow (record latest first snow) and bitter chill to go with it. Believe it or not, even in the depths of winter, you can still find local produce, especially root vegetables.
Root vegetables get sort of a bad rap, because many people have a memory of boiled canned beets being forced on them by a well-meaning mother. However, roasted root vegetables are on a different level.
Where to find local root vegetables? Indoor markets like Boalsburg, Millheim, and State College have vendors who sell root vegetables this time of year (they tend to be easy to store). Another good source is the Friends & Farmers online market, which carries a variety of root vegetables by local farmers such as Tait Farm and Jade Family Farm.
Once you acquire them, roasting them is fairly simple. Here's a recipe that is easy to put together and really brings out the best quality of roasted root vegetables: The sweetness!
Roasted Winter Root Vegetables
Ingredients
- 2 parsnips, peeled like a carrot and cut into 3" slices
- 4 carrots, peeled and cut into 3-4" slices
- 1 celeriac (scary looking but tasty, with a celery flavor)
- 2 turnips, peeled and quartered
- 3-4 beets (preferably golden beets) cut into 1" cubes
- One large onion, cut into wedges
- 1 1/2 tablespoons melted butter
- 1 1/2 tablespoons olive oil.
- 1 tablespoon dried thyme
- 1/2 tablespoon rosemary
- 2 tablespoons fresh chopped parsley
- salt and pepper to taste
Steps
- Preheat oven to 400
- Cut vegetables, keeping in mind that the parsnips, carrots, and turnips will roast faster than the more dense celeriac and beets.
- Put vegetables in large roasting pan or large casserole dish.
- Add oil and melted butter.
- Add herbs and salt/pepper.
- Put in oven, roast 45-60 minutes, tossing vegetables several times during roasting process.
- Take out of the oven when vegetables are tender and browned somewhat.
- Serve warm.
- Toss all ingredients together to coat root vegetables.
Author: Jamie Oberdick
Bio: Editor, Local Food Journey | Passionate about supporting local food in Central PA